Tipitina's Presents
Soul Sister's 16th Annual Birthday Jam - The Two Step Throwback Edition Featuring SWITCH, DJ Soul Sister, and DJ Captain Charles
with
Switch
,
DJ Soul Sister
,
DJ Captain Charles
,
Papa Smurf
September 9, 2022
9:00 pm
CDT
(Doors:

8:00 pm

)
Ages 18 and Up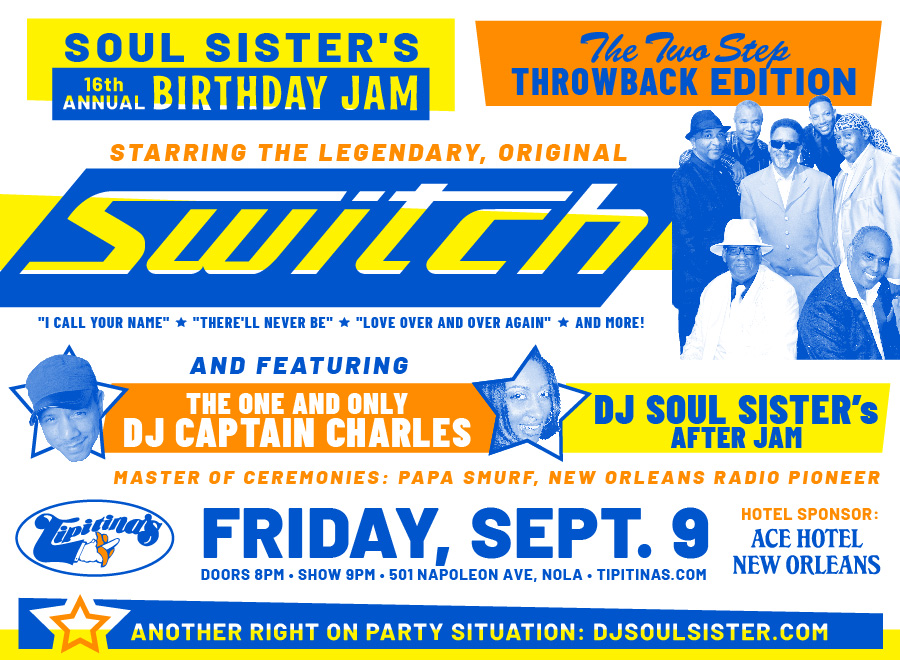 $28.00
Hotel sponsor: Ace Hotel New Orleans
Click here for discounted rooms the weekend of the show!
On Friday, September 9, DJ Soul Sister of New Orleans will throw the 16th edition of her now-legendary, annual birthday party shows (open to the public), a tradition at Tipitina's. Each year's Birthday Jam features a different artist or theme.

This year's "Two Step Throwback Edition" of Soul Sister's Birthday Jam features the legendary Switch, one of Soul Sister's favorite bands and a classic choice of R&B radio listeners. Founded in 1976 by Gregory Williams, and featuring musicians from Michigan and Ohio, Switch scored major R&B radio and club hits on Motown Records with "There'll Never Be" (1978), "I Call Your Name" (1979), "Best Beat in Town" (1979), "Love Over and Over Again" (1980), and more. The band features original member and associates Gregory Williams on vocals and keyboards, Eddie Fluellen on keyboards and vocals, and Michael McGloiry on guitar; as well as vocalist Akili Nickson, bassist James Strong, and drummer and New Orleans native Tefere Hazy. Switch's legacy is documented in Williams' memoir, Switch, Debarge, Motown & Me.

The show is also a tribute to original "throwback" Black New Orleans radio from the 1970s and 1980s, championed by Soul Sister, and fostered by veteran New Orleans DJ Captain Charles and broadcast pioneer Papa Smurf. DJ Captain Charles will open the show with his beloved brand of "old school" R&B sets, which have landed him at recent appearances at the New Orleans Jazz & Heritage Festival, Essence Festival, and Caesars New Orleans. Serving as the evening's Master of Ceremonies is Papa Smurf, whose Quiet Storm and other R&B and jazz radio programs have endeared him to New Orleans listeners for over 40 years.

DJ Soul Sister will close out the night with her "After Jam," strictly for dancers who have enjoyed her parties, events, and Soul Power shows on WWOZ in her native New Orleans for the past 25+ years.