Tipitina's Presents
Samantha Fish & Jesse Dayton
+ Eric Johanson
with
Samantha Fish
,
Jesse Dayton
,
Eric Johanson
December 30, 2022
Doors:

8:00 pm

/
Show:

9:00 pm
CST
Ages 18 and Up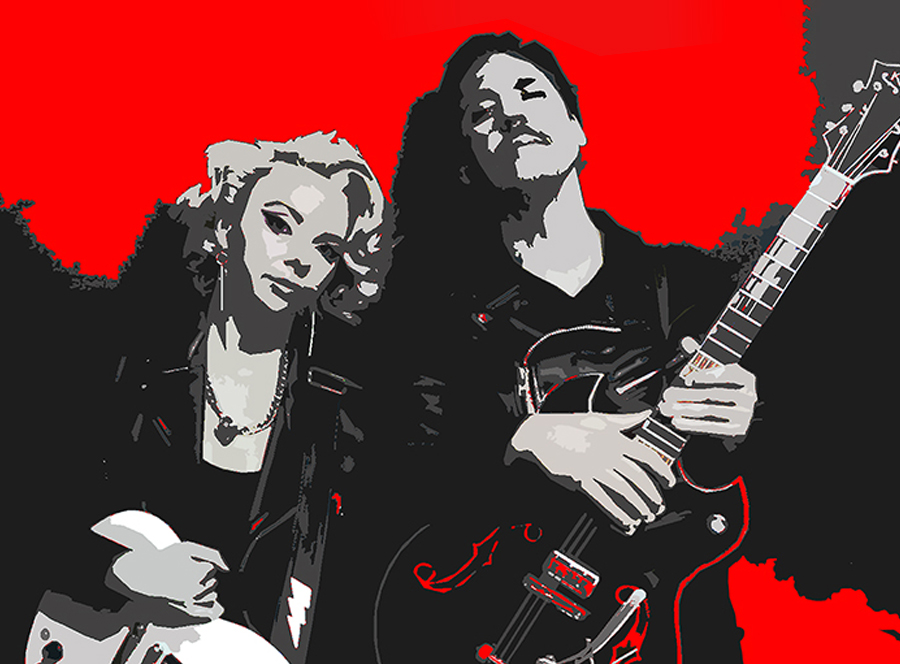 $35.00
An evening of Explosive Alternative Blues featuring Blues Music Award winning Samantha Fish & legendary singer, guitarist and Austin Music Hall of Famer Jesse Dayton.

Samantha and Jesse will share the stage ripping through their vast catalogs as well as music by The Clash, Townes Van Zant, Magic Sam, and new originals songs inspired by this event.

Don't miss this chance to get a sneak peek into their new record scheduled for release in late spring.
Samantha Fish
Over the course of her career as an award-winning artist, singer/songwriter/guitarist Samantha Fish has brought extraordinary power to her self-expression, capturing her inner world in combustible riffs, visceral rhythms, and spine-tingling vocal work. On her new album Faster, she joins forces with superproducer Martin Kierszenbaum (Lady Gaga, Sting) and imbues even more intensity into her electrifying brand of blues/rock-and-roll. With Fish accompanied by legendary drummer Josh Freese (Guns N' Roses, Nine Inch Nails, The Replacements) and bassist Diego Navaira of The Last Bandoleros, the result is a singular body of work both irresistibly galvanizing and emotionally raw.
The follow-up to 2019's Kill or Be Kind (Fish's Rounder Records debut), Faster came to life at the famed Village Studios in Los Angeles, where she and Kierszenbaum uncovered new possibilities in her captivating sound. "Kansas City played a major part in bringing us together: I was born and raised in KC and Martin has some familial ties. Shortly after being introduced last year, we had a conversation about making an album," she recalls. "His track record was perfect for what I wanted to do with this album, which was to expand into different genres while retaining the roots I'd built in the blues world." Revealing her affinity for North Mississippi blues heroes like R.L. Burnside and wildly inventive iconoclasts like Prince, the album ultimately embodies an unbridled energy true to its emotional core. "The whole record has a theme of taking charge and taking the reins, in a relationship or in life in general," says Fish. "I really thought that after 2020 I'd end up with a really dismal, bleak album, but instead, we came up with something that's fun and sexy and so empowering."
Faster opens on its spellbinding title track, a fiercely stomping number whose vocal hook states her intentions to "make your heart beat faster." Immediately making good on that promise, Fish next unleashes the restless urgency of "All Ice No Whiskey," a pop-perfect powerhouse she considers something of a dare. "'All Ice No Whiskey' is a way of telling someone they don't have any of that substance I'm looking for—sort of like, 'Come back when you've got something interesting for me,'" Fish says. That defiant spirit also infuses "Better Be Lonely," a fantastically loose and freewheeling track graced with a frenetic guitar solo. "That song's about putting someone on ice, where you're telling them: 'I don't want you right now, but when I am ready to have you, you better be there," says Fish. Another bold statement of self-possession, "Twisted Ambition" brings mercurial rhythms and jagged guitar work to Fish's refusal to let others define her. "It's about flipping the roles of power—taking control and confronting a world that tries to put you in your place," she notes.
While Faster never fails to showcase the gritty vitality of Fish's musicianship, much of the album journeys into elegantly eclectic sonic terrain. One of Faster's most vulnerable moments, "Crowd Control" unfolds in delicate beats and shimmering keyboard tones, forming a dreamy backdrop to Fish's self-reflection. "It's about confronting your demons – separating the version of yourself that you portray to the world from who you actually are. At its core, it's about expressing vulnerability," Fish explains. "When I wrote it, it felt like a true rootsy, Americana song. Martin added keys and modern synth textures that really brought it back around to this plaintive mood." Featuring a guest spot from rapper/singer/songwriter Tech N9ne, "Loud" drifts from doo-wop reverie to guitar-fueled frenzy, riding that tension to glorious effect. "Tech N9ne is by far one of the biggest artists to come out of KC, and one of the biggest self-made artists in the world," says Fish. "He was perfect for 'Loud,' which is a song about speaking your truth as loud as you can. It's about saying to the person you're with: 'I want you, but I want you ugliness and all. So don't ever be afraid to speak your mind and speak your heart.'" And on "Hypnotic," Fish lays down a mesmerizing piece of R&B-pop, telegraphing unfettered desire in her seductive vocal delivery and lushly textured grooves. "'Hypnotic' is about putting somebody under a spell," she says. "There've been times in my life when I haven't felt all that in control in a relationship, and this song was my chance to become that person."
For the final track to Faster, Fish selected the album's most tender song, a gorgeously stark and slow-burning ballad called "All the Words." "It's about letting a relationship go because that's what's best for everyone, even though it's a horribly painful experience," says Fish. "When we recorded it, it was just me on guitar, Diego on bass, Martin playing the grand piano. It's a song I hold very close, and it felt right to make it as raw as possible."
Throughout Faster, Fish threads her songwriting with the kind of nuanced storytelling and ultravivid detail that comes from carefully honing her craft. "Because we usually tour so much, most of my albums have been written in hotels between shows," she says. "This was the first time I've ever had the opportunity to just sit in one place, and pour everything that was happening around me into songs." Growing up in Missouri, Fish first found her love of songwriting in her late teens, mining inspiration from the likes of Tom Waits and Leonard Cohen. Having taken up guitar at age 15, she soon began seeking out gigs by cold-calling countless local bars. "I used to open the phone book and call up every place in Kansas City, even if they didn't have live shows," she remembers. "I had maybe a three percent success rate, but eventually I started filling up my calendar—if you put on a good enough show, word of mouth gets around." Over the years, Fish has maintained her reputation as a phenomenal live act and repeatedly turned out critically acclaimed albums, in addition to earning an ever-growing number of accolades.
For Fish, one of the greatest joys of making music is the powerful exchange of energy at her incendiary live shows. "I fell in love with music from going to shows, and I know how cathartic it can be. It heals your heart," she says. "Anytime I play live, I just want to want to make people forget about everything else in the world and feel that same joy that I feel on stage." And in the process of creating Faster, Fish experienced a similar exhilaration—a sustained head rush that's entirely palpable in every track on the album. "There's such a transformation that can happen in the studio when you really own that freedom to be creative," she says. "I feel so charged up in those moments, like I can be whoever I want to be. It's just me and these incredible musicians trying to make a piece of art that speaks for itself and contributes something new to the world. It's never hard to feel inspired or empowered when that's the mission."
Jesse Dayton
Jesse Dayton's Beaumonster is filled with song interpretations that are part-greaser, a whole lotta twang, and quintessentially outlaw country badass. Beaumonster encapsulates a life filled with adventure and lore featuring some of the greatest musicians this world has ever known.

Now a successful independent act, in the last handful of years Dayton has played guitar on Guns N' Roses bassist Duff McKagan's latest solo album, launched his own weekly radio show, Dayton's "Badass Country Show," on Gimme Country and licensed more than 50 songs for film and television…not to mention touring his arse off playing over 150 live dates per year throughout Europe and North America while also releasing five albums for Blue Élan Records.

Dayton's life story reads like a "who's who" of American music. In his debut memoir Beaumonster, Dayton reveals the stranger-than-fiction encounters and outlandish experiences that have ensued across his wide-ranging career. After sneaking into nightclubs to play gigs in his youth, 18-year-old Dayton and his trio began packing clubs and theaters across Houston, Dallas, and Austin. His first solo record—featuring great luminaries like Doug Sahm, Flaco Jimenez, and Johnny Gimble—hit #1 on the Americana Radio Charts, and then he was off to the races, touring the world as an opener for punk legends Social Distortion, The Supersuckers, and X, and helping with arrangements and guitar on The Supersuckers' biggest selling record, "Must've Been High." While doing press in Nashville, he caught the attention of Waylon Jennings and was whisked off to Woodland Studios, where he was greeted by none other than Johnny Cash, who tells Dayton: "We've been waiting for you."

After that meeting with "The Man In Black," Dayton's ride across the entertainment industry, traversing genre and format, has only gotten wilder. Whether it's playing guitar on records and film with the likes of Cash, Ray Price, Willie Nelson, Johnny Bush, and Glen Campbell; writing and recording soundtracks for horror director/rockstar Rob Zombie; directing Malcolm McDowell and Sid Haig in his own horror movie; or filling in for the iconic punk band X's guitarist on a massive 40-city US tour, Dayton is down to make his mark—making Beaumonster a uniquely entertaining tale that will impress new and old fans alike.

The companion album finds Dayton performing songs written by the many talented musicians and songwriters featured throughout his memoir. The album zigs and zags from Waylon Jennings to Social Distortion and Townes Van Zandt to Willie Nelson — all who shared a connection with the storied Beaumont guitar slinger.

When Billy Zoom was going through cancer treatment in 2015, Dayton filled in on the X summer tour. Dayton, first and foremost a fan, was thrilled to play X songs each night in the spot of one of his guitar idols. He wrote about the once in a lifetime experience and decided to cover what he calls a "Johnny and June hillbilly version" of X's "Burning House of Love" which features Dayton's signature Texas twang with a dash of outlaw country.

While on tour with the Supersuckers in 1994 Dayton found himself "…prayin' the Devil didn't steal [his] soul, and that [his] mama wouldn't find out about [his] evil ways." On his cover of "Born with a Tail," Dayton starts off with a driving intro then adds a Spaghetti Western flair and somehow even more slide guitar that does justice to the Supersuckers own, the late Rontrose Heathman.

"Story of My Life," a classic Social Distortion song was an easy pick for Dayton, "This song pretty much explains why [Mike Ness'] working class fans love him so much… he's one of them." Dayton's punkabilly drawl cuts through a mix of organ and background vocals to give an entirely new feel to the group's most iconic song.

Working with Waylon Jennings was a dream come true for Dayton, "[Waylon] put a dangerous cool factor into country music when it really needed it, and playing with him was mind blowin'." Dayton's cover of "Just to Satisfy You" is a tender interpretation of the heartbreak song and showcases a softer side to Dayton's vocal abilities.
Eric Johanson
ERIC JOHANSON BIO & PRESS QUOTES

Eric Johanson is a multiple Top 10 Billboard-charting guitarist, vocalist, and songwriter whose repertoire includes progressive Americana, blues-based roots rock, New Orleans funk, and more. His four most recent solo releases – Live at DBA: New Orleans Bootleg, Covered Tracks: Vol. 1, Covered Tracks: Vol. 2, and Below Sea Level – all reached top-ten positions on the Billboard blues charts. As a collaborator, his most notable recent work is as a guitarist on Big Chief Monk Boudreaux's Grammy-nominated 2021 album, Bloodstains & Teardrops.

As a touring performer, Johanson's solo festival appearances include the Legendary Rhythm & Blues Cruise, Las Vegas Big Blues Bender, and Voice of the Wetlands. He and his band have appeared in more than 100 cities across the United States, including Albuquerque, Baltimore, Boston, Bozeman, Charlotte, Denver, Houston, Madison, Memphis, New York, Phoenix, San Francisco, St. Louis, and Tampa. Johanson has performed with Cyril Neville, Anders Osborne, the Neville Brothers, Terrance Simien, JJ Grey, Eric Lindell, and others on international stages and festivals including the Chicago Blues Festival, Edmonton Blues Festival, New Orleans Jazz & Heritage Festival, Byron Bay Bluesfest (Australia), Airbag Festival (Belgium), and more.

A self-taught child prodigy, Johanson grew up in Alexandria, Louisiana, where he was gifted his first guitar at age five. By his pre-teen years, his love of the blues performed by his family members and played in his childhood home merged with his love for hard rock records by Metallica, Megadeth, and White Zombie. Throughout his teenage years, he performed frequently with older blues musicians, generating for himself considerable acclaim as a budding regional star. What would prove to become a lifelong exploration of his varied musical interests began in earnest after moving to New Orleans, where he embraced progressive rock and beat-making while simultaneously developing his blues voice. After graduating from the University of New Orleans, Johanson spent several years in New Zealand before being called back to his adopted hometown and the improvisational, extemporaneous nature of roots music in New Orleans.

Johanson has since established himself as an in-demand guitarist and guest performer for some of the most prolific names in New Orleans' diverse roots music scene, including the Grammy-winning stars Cyril Neville, Anderse Osborne, and Neville Brothers. In 2017, blues rock icon Tab Benoit took notice and signed Johanson to his Whiskey Bayou Records label. That same year, Johanson released his Benoit-produced debut solo album, Burn It Down, which led to two years of national touring with Benoit.

2019 saw the Nola Blue Records release of a duet album with singer-songwriter Tiffany Pollack, Blues In My Blood, as well as Johanson's appearance at an all-star jam concert with the North Mississippi Allstars's Luther Dickinson during the New Orleans Jazz & Heritage Festival. In 2020, Johanson signed with Nola Blue Records and released Below Sea Level, which was recorded at Zebra Ranch and includes contributions from Cody Dickinson (North Mississippi Allstars) on drums, Terrence Grayson (Victor Wainwright) on bass, and Ray Jacildo (JD McPherson) on B3 organ. The album features 12 original songs penned by Johanson, and was mixed by Dan Auerbach's head engineer at Easy Eye Sound in Nashville, M. Allen Parker.

Johanson's fan base grew extensively during the pandemic and ensuing shutdown of live music, due to his successful acoustic livestreams, during which he mixed original songs with covers of artists representing a variety of genres. Popular demand led to the release of Covered Tracks, volumes one and two, in the spring of 2021. In early 2022, Johanson released Live at DBA: New Orleans Bootleg, his first live album and a double-disc raw and unfiltered snapshot of his live band in action.