Tipitina's Presents
With You In Mind - A Tribute to The Songbook of Allen Toussaint
with
George Porter, Jr.
,
Deacon John
,
John Boutté
,
Jon Cleary
,
Kermit Ruffins
,
James Andrews
,
Stanton Moore
,
Anjelika "Jelly" Joseph
,
Theresa Andersson
,
Oscar Rossignoli
,
Herlin Riley
,
David Torkanowsky
,
Kyle Roussel
,
Chris Adkins
,
Tony Dagradi
,
Brad Walker
,
Tracy Griffin
,
Jeff Albert
,
Phillip Manuel
,
Jolynda "Kiki" Chapman
November 23, 2022
Doors:

7:00 pm

/
Show:

8:00 pm
CST
Ages 18 and Up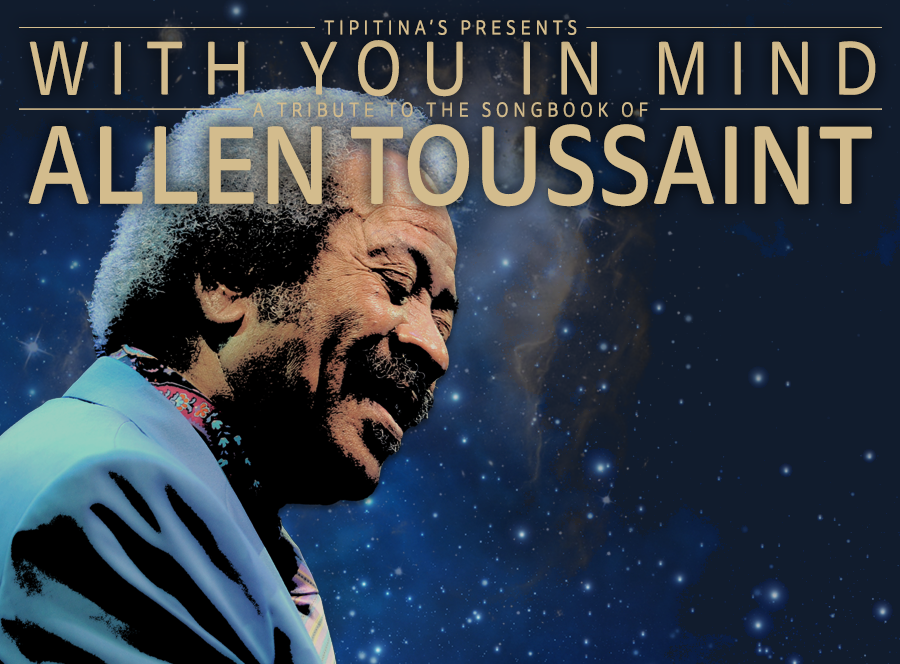 SOLD OUT
· Musical Director George Porter, Jr.
· Featuring Performances by Irma Thomas, Ivan Neville, Deacon John, John Boutté, Jon Cleary, Kermit Ruffins, James Andrews, Stanton Moore, Anjelika "Jelly" Joseph, Theresa Andersson, Oscar Rossignoli, And More!
· House Band Featuring Herlin Riley, David Torkanowsky, Kyle Roussel, Chris Adkins, Tony Dagradi, Brad Walker, Tracy Griffin, Jeff Albert, Phillip Manuel, Jolynda "Kiki" Chapman
· Produced by Sonny Schneidau
· A Portion of the Proceeds will Benefit New Orleans Musicians' Clinic
George Porter, Jr.
New Orleans music royalty and Grammy Lifetime Achievement Award recipient

George Porter Jr. founded The Meters in 1965 alongside Art Neville, Leo Nocentelli and Joseph Zigaboo Modeliste. Known as one of the progenitors of funk with Sly & The Family Stone and Parliament Funkadelic, The Meters carved their own place in history with syncopated polyrhythms and grooves inherited from New Orleans' deep African musical roots. Porter's heavy pockets and fat notes created the rubbery bass lines behind anthems like "Cissy Strut" off the group's self-titled 1969 debut — The Meters' greatest commercial single that reached No. 4 on the R&B chart and No. 23 on the Billboard Hot 100.

The Meters became the house band for Allen Toussaint's recording label and studio in New Orleans, backing records for Dr. John, Paul McCartney, Lee Dorsey, Earl King, Robert Palmer and Patty Labelle's No. 1 hit, "Lady Marmalade". They toured with the Rolling Stones and influenced everyone from Led Zeppelin and Bob Marley to the Red Hot Chili Peppers and the Beastie Boys. Porter's rhythmic work with drummer Modeliste became the building block behind scores from hip-hop artists A Tribe Called Quest, Run DMC, N.W.A. and Queen Latifah, all of whom sampled The Meters.

The band broke up in 1977, after Toussaint claimed rights to the name, but reformed in the 1980s as the Funky Meters following an informal jam during the New Orleans Jazz & Heritage Festival. Porter went on to become a highly coveted session bassist. He notched studio sessions with David Byrne, Jimmy Buffet, Tori Amos and Taj Mahal; and live performances with John Scofield, Warren Haynes, members of the Grateful Dead and countless others.

Porter started his own long-term project, the Runnin' Pardners, in 1990. The group's studio releases include Funk This (2000) and Can't Beat the Funk (2011), as well as live albums along the way. The current lineup features drummer Terrence "Groove Guardian" Houston, Michael Lemmler on keyboards and guitarist Chris Adkins.

In 2000, the original Meters lineup reunited for a one-night stand at the Warfield in San Francisco, and again in 2006 to headline Jazzfest in the wake of Katrina. The group sporadically performed as The Original Meters to elated crowds between 2012 and 2017. Art "Poppa Funk" Neville retired from performing in 2018 and passed away the following year. But the Meters' music and their heritage of funk lives on in George Porter and his bandmates – past, present and future.

Born and raised in the Crescent City, Porter, now in his 70s, calls New Orleans home to this day.
John Boutté
During his school days John played coronet and trumpet, those clarions of life in New Orleans, in his junior high and high school marching bands; he was a section leader, no less, in a town where marching bands duel like decked-out demons in the street. School also gave John the chance to sing, first at talent shows and then with street a capella groups, groups named -- listen -- "Spirit" and then "Remnant." Linger for a moment on those names, and then let them resonate an instant longer, street bands singing on the bricks of a town where "street singer" is still a respectable job title.Take another moment and stir in the spices of the music that was on the turntables of his older brothers and sisters, the music that ruled the street and raised the spirits: Stevie Wonder and Marvin Gaye, the Jackson 5 and Roberta Flack and Donny Hathaway. During these years traditional jazzmen like Paul Babarin, Louis "Big Eye" Nelson and Danny Barker became both John's friends and mentors. John's sister, Lillian Boutte, introduces the young stylist to local legends like Dr. John, Allen Toussaint and James Booker.
After high school, John studied at Xavier University, a black Catholic institution known in New Orleans and indeed the entire Deep South. After graduating John was commissioned as officer in the U. S. Army, and provided with the opportunity to direct and sing in the Army gospel choirs in Virginia, Texas and, eventually, Korea. It was in Korea, ironically, when sinqing gospel and deep, deep blues after hours in restaurants he'd only accidentally entered, that he began to know himself as an American, an artist and a person. Not long after his return to the States, John was invited to tour almost the entirety of Europe with his sister Lillian. Europe was a set of lessons in languages and cultures and customs, which gave John a chance to meditate on the very idea of a life led as a jazz singer.
When John eventually got back home to New Orleans he continued singing. But now there was a new generation, a new breed of musicians available; musicians like Herlin Riley, Shannon Powell, Nicholas Payton and Bryan Blade. He began to open shows for the likes of Mel Torme, Lou Rawls, Rosemary Clooney and, most recently, Herbie Hancock. In recent times he has recorded three CD's. Through the Eyes of A Child , Scotch and Soda, and the remarkable Jambalaya, recorded for Bose. Yet another CD entitled Gospel United, a concert recording arranged in Denmark, contains his remarkable solo arrangement of "The Battle Hymn of the Republic", which has achieved Gold Record status in several European markets.
Sometimes you can hear him singing, sometimes whistling, or sometimes you can hear him faintly from the street as he sits at his piano singing a Korean lullaby. John's job is to sing -- to sing jazz, to sing it with such style and grace that no one ever mistakes him for anything other than a master. John is one of those remarkable cases where the art arises from the true heart. To know John is to hold onto the coattails of a butterfly. To hear him sing is to feel a brief touch of the wing.
Jon Cleary
Jon Cleary's love and affinity for New Orleans music goes back to the rural British village of Cranbrook, Kent, where he was raised in a musical family. Cleary's maternal grandparents performed in London in the 1940s, under the respective stage names Sweet Dolly Daydream and Frank Neville, The Little Fellow With The Educated Feet – she as a singer, and he as a crooner and tap dancer.
As a teen Cleary grew increasingly interested in funk-infused music and discovered that three such songs that he particularly admired – LaBelle's "Lady Marmalade," Robert Palmer's version of "Sneakin' Sally Through the Alley," and Frankie Miller's rendition of "Brickyard Blues" – were attributed to Allen Toussaint as either the songwriter, the producer, or both. Cleary's knowledge of Toussaint's work expanded significantly when his uncle returned home to the U.K., after a two-year sojourn in New Orleans, with a copy of a Toussaint LP and two suitcases full of New Orleans R&B 45s.
In 1981 Cleary flew to New Orleans for an initial pilgrimage and took a cab straight from the airport to the Maple Leaf Bar, a storied venue which then featured such great blues-rooted eclectic pianists as Roosevelt Sykes and James Booker. Cleary first worked at the Maple Leaf as a painter, but soon graduated to playing piano there – even though his first instrument was the guitar, which he still plays and has recently reintroduced into his live performances.
As word of Cleary's burgeoning talent began to spread around town, he was hired by such New Orleans R&B legends as Snooks Eaglin, Earl "Trick Bag" King, Johnny Adams, and Jessie "Ooh Poo Pah Doo" Hill, while also gaining the respect of the great Crescent City pianists Dr. John and the late Allen Toussaint. Years later, in 2012, Cleary recorded a critically acclaimed album of all-Toussaint songs entitled Occapella.

Today, Cleary's work pays obvious homage to the classic Crescent City keyboard repertoire created by such icons as Jelly Roll Morton, Fats Domino, Professor Longhair, Art Neville, Dr. John, and James Booker – while also using it as a launching pad for a style that incorporates such other diverse influences as '70s soul and R&B, gospel music, funk, Afro-Caribbean and Afro-Cuban rhythms, and much more.
Deciding to stay in New Orleans, Cleary recorded his first album of nine, to date, in 1989. His ever-elevating profile led to global touring work in the bands of Taj Mahal, John Scofield, Dr. John, and Bonnie Raitt. Cleary has led his own group, the Absolute Monster Gentlemen, for over two decades now, but he still collaborates frequently with these old friends. At the 2018 New Orleans Jazz & Heritage Festival, for instance, Cleary performed alongside Raitt in a heartfelt tribute to Fats Domino.
Stanton Moore
Stanton Moore is a GRAMMY award-winning drummer, educator and performer born and raised in New Orleans. He is especially connected to his hometown city, its culture and collaborative spirit. In the early '90s, Moore helped found the New Orleans-based essential funk band Galactic who continue to amass a worldwide audience via recording and touring globally. The band has averaged 100 shows a year for the last 25 years.
In 2018, Moore and his bandmates in Galactic pooled their resources to purchase the internationally renowned music venue Tipitina's.
Moore launched his solo career in 1998. He has 8 records under his own name with the most current being "With You In Mind: The Songs of Allen Toussaint".
Throughout his 25 year career, Moore has played and or recorded with a diverse group of artists including Maceo Parker, Joss Stone, Irma Thomas, Leo Nocentelli and George Porter (of the Meters),Tom Morello (of Rage Against the Machine), Corrosion of Conformity, Donald Harrison Jr., Nicholas Payton, Trombone Shorty, Skerik, Charlie Hunter, Robert Walter, Will Bernard, Ivan Neville, Anders Osborne and the Preservation Hall Jazz Band.
He has also appeared numerous times on the Jimmy Kimmel, Conan O'brien and Seth Meyers late night TV night shows.
With a bachelor's degree in music and business from Loyola University, Moore stays involved in education by constantly presenting clinics and teaching master classes and private lessons all over the world. He has released two books and three video projects. His book Groove Alchemy was picked by Modern Drummer as one of the top 25 instructional drum books of all time. To continue with his passion for teaching and to become more closely connected with his students, he recently launched his own online drum academy, StantonMooreDrumAcademy.com.
Jeff Albert
Jeff Albert is a musician, music technologist, and educator. He was named a Rising Star Trombonist in the Downbeat Critics Polls each year from 2011-2019, and performs regularly in the New Orleans area, and throughout the US and Europe. Jeff wrote the horn parts and played trombone on Bobby Rush's album Porcupine Meat, which won the 2017 Grammy for Best Traditional Blues Album, and was the horn arranger and trombonist for The Meters from 2015 until their final performance in 2017. Albert performed on Pretty Lights Grammy Nominated 2013 album Color Map of The Sun. In 2013, the Paris based record label Rogue Art released his CD, The Tree on the Mound, which features Kidd Jordan, Hamid Drake, and Joshua Abrams. In addition to leading his band Unanimous Sources, Jeff is a member of Hamid Drake's Bindu-Reggaeology band, and co-led the Lucky 7s with fellow trombonist Jeb Bishop. In addition to his work with world renowned improvisers, he has been a member of the bands of New Orleans greats George Porter and Wardell Querzergue, backed artists like Stevie Wonder and Bonnie Raitt, and performed with the Louisiana Philharmonic Orchestra, and the New Orleans Opera.

Jeff is an Associate Professor, and Director of the School of Music Industry and the School of Music & Theatre Arts, in the College of Music and Media at Loyola University New Orleans, and in May of 2013, he became the first graduate of the PhD program in Experimental Music and Digital Media at Louisiana State University, where his teachers included Stephen David Beck and Jesse Allison. He also holds degrees from Loyola University – New Orleans, and the University of New Orleans, and has served on the faculty of Xavier University of Louisiana and the University of New Orleans. Jeff's areas of research include improvisation, performance paradigms for live computer music, and audio pedagogy. Jeff has given presentations at the conferences of the Society for ElectroAcoustic Music in the United States, the Symposium for Laptop Ensembles and Orchestras, the International Society for Improvised Music, the Guelph Jazz Festival Colloquium, and the inaugural Symposium on Integrated Composition Improvisation and Technology. His article "Improvisation as Tool and Intention: Organizational Approaches in Laptop Orchestras and Their Effect on Personal Musical Practices" was published December of 2012 in Critical Studies in Improvisation/Études critiques en improvisation.