Tipitina's Presents
Lucero
with
Lucero
,
Justin Wells
February 10, 2023
10:00 pm
CST
(Doors:

9:00 pm

)
Ages 18 and Up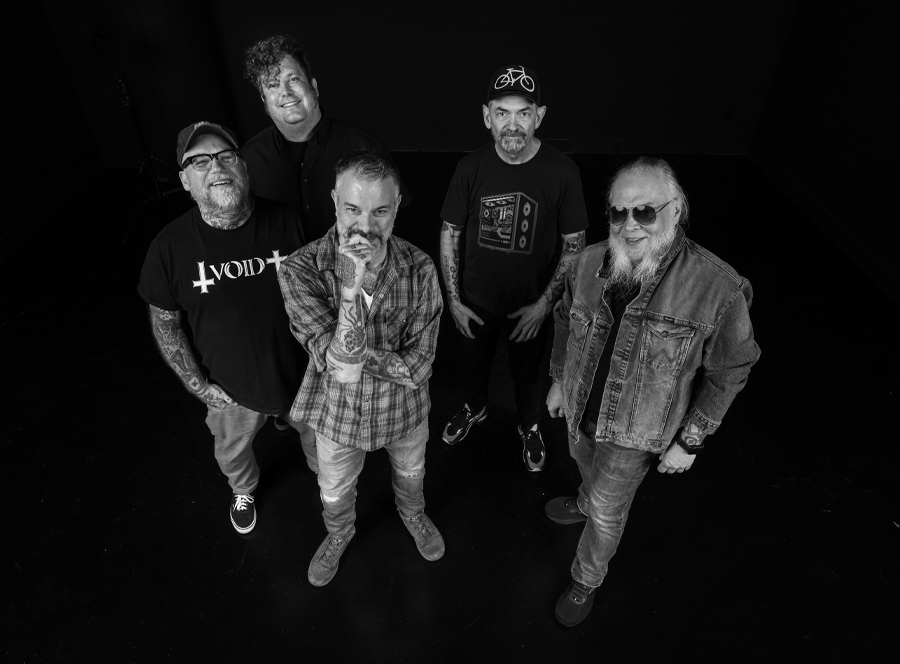 $27.00
Lucero
The search for one's identity is a lifelong process that every individual must go through. Who someone is today, is not the person they were yesterday nor who they may be tomorrow. Despite those changes, there is a general idea of a defined sense of self. No matter what happens, it is that small yet solid and grounding definition of self that continues to drive us forward in our search for identity and whatever may come with it.

It would be difficult to find any artist who understands that better than the band Lucero.

Since forming in Memphis in the late 90's, Lucero's base musical hallmarks have remained similar to the band's initial sound established with their first record The Attic Tapes. In the history of their expansive discography, Lucero has evolved and embraced everything from southern rock to Stax-inspired Memphis soul, whilst simultaneously maintaining their distinctive sonic foundations. Over 20 years later, dedicated fans of the group still flock to hear the band's punchy driving rhythms, punk-rooted guitar licks, and lyrics that evoke the whiskey drenched sentimentality of Americana singer-songwriters. As expected of any band built to survive, Lucero has welcomed change over the course of their career, but it has always been on their terms.

The band's twelfth album, Should've Learned by Now, began its life as hardly more than some rough demos and lingering guitar parts. These pieces that were left behind from the band's previous albums, Among the Ghosts (2018) and When You Found Me (2021) were deemed too uptempo and capering for the prior records' darker themes.

"I had a particular sound I was looking for on each record and there was no room for any goofy rock & roll or cute witticisms or even simply upbeat songs," said primary lyricist and frontman, Ben Nichols. "But now finally, it was time to revisit all of that stuff and get it out in the world. That's how we got to the appropriately-for-us-titled album Should've Learned by Now. The album is basically about how we know we are fuckups and I guess we are ok with that."

The band, comprised of all its original members (which in addition to Ben Nichols, includes Brian Venable on guitar, Roy Berry on drums, John C. Stubblefield on bass, and Rick Steff on keys) teamed up for a third time with producer and Grammy Award-winning engineer and mixer, Matt Ross-Spang. Lucero began the recording process in Sam Phillips Recording Service before transitioning and finishing the record in Ross-Spang's newly opened Southern Grooves Productions in Memphis, TN. Ross-Spang appears to have settled in with the band's more trademark sound whilst very much making his touch known to listeners.

"He knows how to take the sounds we're making on our own and just kind of polish them up in the right way. Or dirty it up in the right way. Whatever it takes, he just kind of does it," says Nichols.

The first track from the album "One Last F.U." is a punchy and somewhat combative song which was one of the original remnants of Among the Ghosts. Despite its title, "One Last F.U." is less about standoffishness and more a self-reflection on the kind of people we are capable of being in difficult situations. According to Nichols "The rest of the song was simply about wanting to be left alone while I drank at the bar. That could be taken in a kind of grumpy/antagonistic way, but I feel ok singing the song because I've been both characters in the song at different times. Sometimes I'm the one wanting to be left alone and sometimes I'm the drunk one blabbing all night to someone that just wants to be left alone." Right off the bat, Nichols' vocals are awash in rock and roll slap-back reverb. The effect pushes Nichols' naturally upfront vocals wider, so they fill the space in a manner more akin to a live performance. It's one of a few new production effects that extend throughout the record and add a new level of presence and attitude to the band's sound.

The second track, "Macon if We Make It", was inspired by the band having to traverse through Georgia during a hurricane. When asked where the next stop on the tour was, the band responded with, "Macon, if we make it." Continuing to be reminiscent of older works, "Macon if We Make It" has echoes of the band's 2009 album 1372 Overton Park. The song is really driven by guitarist Brian Venable's formidable electric guitar. The lyrics seem at first to be mostly preoccupied with a literal storm situation at hand but turn out to be more about a troubled relationship back home. The proverbial dam breaks when the narrator sings "I don't know if we were in love. I just know it wasn't enough. Got caught in the storm and the water it's rising…" The song gives way to a powerful drum lead up by Roy Berry and the listener is carried out, like a raft, on a ripping guitar solo.

The pushes and pulls, builds and breakdowns are all over the album's subsequent tracks, but it isn't all hard-edged rock and roll all the time. "She Leads Me", is inspired somewhat by the classic tale of Orpheus and Eurydice, and delves into a softer and more nostalgic sound. With backing vocals supplied by Jesse Davis and Cory Branan, it's a song that lyrically rests on the concept that we sometimes need to recognize and acknowledge our past for a gentle enough reassurance to move forward.

The rest of the album dives right back into its more rock and roll songs with "At the Show" and "Nothing's Alright", both of which examine the highs and lows of remembering old loves, reminiscing on the old days, and contented introspection. Aspects which finally come to a head in the album's title track "Should've Learned by Now", a rough and edgy song that tackles the fact that all the lessons, though clearly recognized, have yet to sink in. Quite poetically, the song is set to a tune that may be the greatest call back to Lucero's punk upbringing.

From its original Ben Nichols-designed cover art to its credits, the album is a reflection of a band that knows itself. Should've Learned by Now bridges the gap musically between "old Lucero" and "new Lucero" in a manner which affixes the band's position as the perfect intersection of punk initiative with hard-earned artistry. It's an album that recognizes the past in its sound and content, but leaves the door wide open to the future and for the lessons still in store.
Justin Wells
If finding common ground sounds like an ambitious prospect in these profoundly polarized times, that's because, quite frankly, it is. But with his extraordinary new album, The United State, Wells has managed to transcend politics and race and religion and tap into something far deeper, something infinitely more primal and timeless. Recorded with acclaimed producer Duane Lundy (Ringo Starr, Sturgill Simpson's Sunday Valley, Joe Pug), the collection explores our innate humanity and everything that comes with it: the joy, the sorrow, the ecstasy, the pain, the hope, the fear. Wells' songs speak to the universal truths that bind us, empathetically leaping between perspectives as they reckon with personal growth and existential quandaries. The arrangements here are rich and ethereal to match, balancing lush sonic landscapes with stark acoustic meditations. The result is a subtly revelatory record, a gripping, cinematic album full of small moments and sharp insights that add up to nothing short of life itself. "Ultimately, this album's about unity," says Wells. "It's about the common thread that connects us all." After spending his childhood in Blanchard, LA, Wells moved with his family to Cynthiana, Kentucky as a youngster. Growing up in the rural South, he rebelled against the commercial country music that surrounded him, instead preferring the trippy psychedelia of Pink Floyd and the brash energy of Guns N' Roses. After an aimless couple of years trying to put a band together in rural Kentucky, he moved to Lexington, and immediately launched the cult favorite Southern rock band Fifth on the Floor. The group released a couple of well-received independent records before teaming up with Shooter Jennings on their breakout third album, 2013's Ashes & Angels, which debuted on the Billboard Country charts. While the record earned raves and helped land the band dates with the likes of Chris Stapleton, Sturgill Simpson, Jason Isbell, and Blackberry Smoke, it would prove to be the group's last, and following a pair of hometown farewell shows, the four-piece split for good. "When that band broke up, it kicked me in the teeth. We'd spent years clawing upward, and suddenly there was no wind, no sails," says Wells. "That had been my dream since I was a teenager, and all of my eggs were in that basket. There was no backup plan."

With the rug suddenly pulled out from under him, Wells found himself in freefall. Rather than succumb to the disappointment, though, he decided to write his way through the heartache, emerging stronger and more creatively invigorated on the other side with his solo debut, Dawn in the Distance. The record (and its subsequent touring) prompted the best reviews of Wells' career, with Rolling Stone hailing his "gift for melody" and Saving Country Music praising his "stunning insight and honesty." The album reached #3 on Amazon's Alt-Country/Americana chart, and songs from the collection racked up more than a million streams on Spotify alone.

When it came time to work on a follow-up, Wells decided to flip his entire writing process on its head. Instead of penning whatever music just happened to come to mind, he crafted an entire architecture and sequence for the record in advance, following it like a road map as he wrote about what it meant to be human, to be caring, to love yourself and your fellow man, flaws and all. "Tribalism is the name of the game at this point," says Wells. "'Divided' is a cliche. But if you zoom out, we all bleed the same, we all laugh the same, we all cry the same. There's this common path that all of our lives follow: birth, being a dumbass kid, thinking you're falling in love, actually falling in love, starting a family. Worrying about paying the bills, death, whatever comes next." Writing the album was a slower and more deliberate process than Wells had ever experienced, and the recording sessions unfolded in a similarly methodical fashion. After brothers Daxx (Cheap Trick) and Miles Nielsen (Miles Nielsen and The Rusted Hearts) laid down rhythm tracks in Rockford, IL, Wells and Lundy cut vocals and guitars in Lexington with Laur Joamets (Sturgill Simpson, Drivin' N Cryin') and Alex Muñoz (Margo Price, Nikki Lane). GRAMMY-nominated producer/engineer/multi-instrumentalist Justin Craig, meanwhile, contributed additional guitar and percussion parts from his New York City studio, and a slew of Wells' friends and collaborators joined forces to help put the finishing touches on things back in Kentucky.

That communal spirit is the heart and soul of The United State which nods to our shared humanity with a stark, black and white portrait of an elderly woman on the cover, a lifetime of struggle and resilience and heartbreak and love etched in the lines on her face. After opening with an ethereal instrumental movement that radiates all the warmth and safety of the womb, the collection begins in earnest with "The Screaming Song," a bittersweet meditation on the wonder and the terror that accompanies our entrance into this world. "It won't be the last time I am on my own," Wells sings in his rich, honeyed drawl, at once capturing both the infinite beauty and unfathomable sadness that awaits each of us at birth. The record works its way through life chronologically, as a series of snapshots of formative moments from a variety of narrators connected by their shared humanity. "No Time For A Broken Heart" recalls the playful country funk of The Band's "Cripple Creek" as it celebrates the freedom of youth, while the tender "Some Distance From It All" taps into the eternal teenage quest for independence and identity, and the boisterous "Never Better" learns the difference between lust and love the hard way. As exuberant as the record begins, there's a distinct maturing on the album's second half, which finds adolescence giving way to adulthood. The soulful "After The Fall" and R&B-tinged "It'll All Work Out" revel in the power of grown-up love, while the breezy "Temporary Blue" and driving "Walls Fall Down" reflect on the growth and responsibility that come with raising a family of your own, and the hypnotic "Ruby" and dreamy "The Bridge" approach death with a calm acceptance, passing peacefully from this life to the next. "On my own, on my own, 'til I see you again, I am on my own," Wells sings, bringing the whole journey full circle. "Birth and death, they're just transitions," he muses. "There's comfort there."

We may never truly understand what happens when we shuffle off this mortal coil. Hell, we may never truly understand what happens while we're here. But with The United State Justin Wells has crafted an essential soundtrack to the journey.