Tipitina's Presents
Anders Osborne's Holiday Spectacular With Special Guests Jackie Greene, Sonny Landreth, Dave Malone, and Brad Walker & The Hornstars
with
Anders Osborne
,
Jackie Greene
,
Sonny Landreth
,
Dave Malone
,
Brad Walker & The Hornstars
,
Andrew Duhon Trio
December 16, 2022
9:00 pm
CST
(Doors:

8:00 pm

)
Ages 18 and Up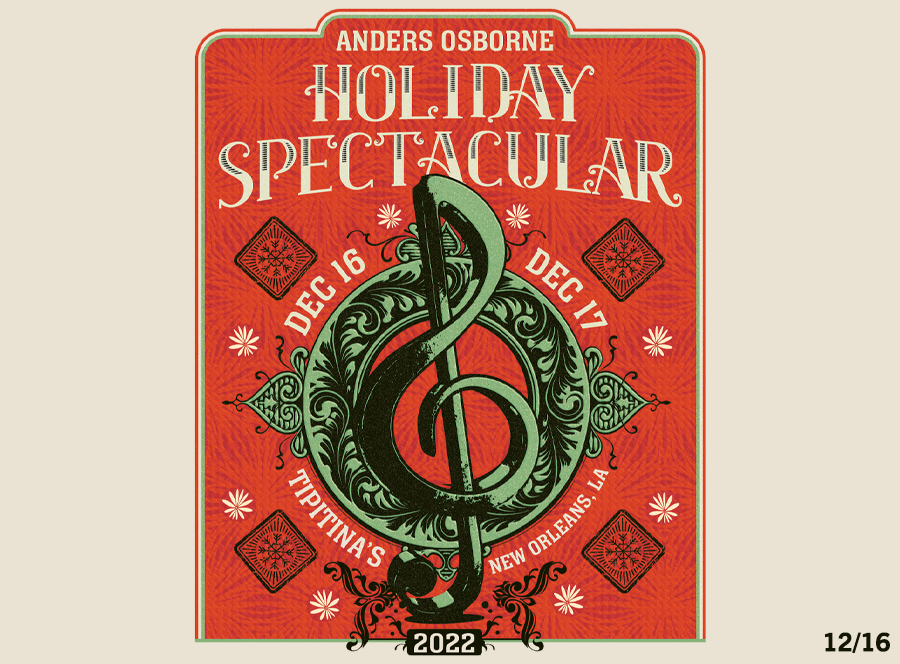 $38.00
Anders Osborne
Between the potency of his richly detailed songwriting, his intensely emotional, soulful vocals and his piercing, expert guitar work, New Orleans' Anders Osborne is a true musical treasure. He is among the most original and visionary musicians writing and performing today. Guitar Player calls him "the poet laureate of Louisiana's fertile roots music scene." New Orleans' Gambit Weekly has honored Osborne as the Entertainer Of The Year. OffBeat named him the Crescent City's Best Guitarist for the third year in a row, and the Best Songwriter for the second straight year. Osborne also won Song Of The Year for his composition, Louisiana Gold.
Osborne's latest released Flower Box, his second full-length album of 2016, recorded in his hometown of New Orleans late last year, Flowerbox is a heavier, guitar-driven follow-up to the acclaimed Spacedust & Ocean Views.
"I love the way this record comes out stout and determined right out the gate, a four-piece rock & roll band making beautiful and conquering noise," says Osborne. "The producer, Mark Howard, has a way of making you play in the moment and being confident. His sounds and engineering style is that of classic records, with his own special sauce of 'haunting' on top of it. The musicians on here are undoubtedly some of my absolute favorites in the world, both as players and as people. Their contributions are invaluable. Scott Metzger, Brady Blade, Carl Dufrene, Chad Cromwell, Marc Broussard, David LaBruyere, Rob McNelley & Justin Tocket. Bad boys! I've been wanting to make this record for several years and I am stoked it's finally here."
A powerful live performer, the musician has won over fans through non-stop touring as well as a heralded collaboration with the North Mississippi Allstars & Southern Soul Assembly.
Jambands.com said, "Osborne finds a striking balance of muscle and grace that allows for the smaller moments of quiet to be just as resounding as the sonic booms." And USA Today has praised his music, saying "The relentless approach amplifies the anguished lyrics, which appear to be about the death of a loved one or a relationship torn asunder or perhaps a spiritual crisis." In a review of Spacedust & Ocean Views, Boulder Weekly said the album "finds the guitarist in a (largely) reflective mood, an extended meditation on place and moments in time, memory, passages through and exits from paragraphs in the non-fiction docudrama of life. Through languid, gently formed figures, Osborne coaxes odes of gratitude and compelling imagery in what seems a little like a travelogue — like watching his kid chasing seabirds on the beach..."
Osborne has earned hordes of new fans. He has toured virtually non-stop, either with his own band, as a solo artist, or as a guest with his countless musical admirers, including Toots and The Maytals, Stanton Moore, Derek Trucks, Warren Haynes, Keb Mo, The Grateful Dead's Phil Lesh, Jackie Greene and Karl Denson's Tiny Universe. He's produced and played on critically acclaimed albums by Tab Benoit, Johnny Sansone and Mike Zito.
Since his recording debut in 1989, Osborne has written virtually all of his own material and contributed memorable songs to a wide variety of artists. Two tunes co-written by Osborne appear on Keb Mo's Grammy-winning 1999 release Slow Down. Country superstar Tim McGraw scored a #1 hit with Anders' song Watch The Wind Blow By. Osborne's compositions have been covered by artists as diverse as Brad Paisley, Tab Benoit, Jonny Lang, Edwin McCain, Sam Bush, Trombone Shorty and Aaron Neville and Kim Carnes. His songs have appeared in multiple feature films. He can also be seen performing in an episode of HBO's New Orleans-based drama, Treme.
Sonny Landreth
A percussive burst of acoustic resonator guitar pushes the narrator on a journey "between the life I left and the edge of next" in the title cut of guitarist, songwriter and bandleader Sonny Landreth's 14th album. As the singer feels the wind at his back, a rising bass line intersects Landreth's vocalizing to stretch the fingerpicked tune into Far Eastern melodicism.
The south Louisiana artist's groundbreaking work has long mixed familiarity with experimentation, and his latest 10-song collection stretches from hard-edged electric instrumentals to wistful acoustic ballads. The project's range is the fruit of a renewed collaboration. Producer RS Field – who helmed Landreth's trio of breakout albums – joined the six-stringer and co-producer Tony Daigle to finish the record.
"His brilliance and creative energy recharged us," Landreth said of reuniting with Field. Most of the tracks were recorded live at famed Dockside Studios on the Vermilion River south of Lafayette, La. "We came up with new and better ideas, and that's what you want," he added. "It couldn't have gone better."
A quartet of instrumentals highlights the expressive power of bassist David Ranson, drummer Brian Brignac and multi-talented keyboardist/songwriter Steve Conn. The sultry, slow zydeco pulse of "Lover Dance With Me" features Landreth trading in his signature glass slide for his guitar's tremolo arm and a rotating Leslie speaker cabinet. "Mule" follows, with its tailgate rhythm bouncing through a his-and-her tale of unrequited love.
"Groovy Goddess" takes the listener into harder-edged jazz-rock territory, showcasing the slide guitar prowess that has twice landed Landreth on the cover of Guitar Player magazine. "Honestly, I think the purest form of music is improvised," the bandleader says. "When it flows, it's exhilarating. It just seems to come out of nowhere and connect your heart and soul to your fingertips." Blacktop Run comes on the heels of Landreth's Grammy-nominated double album Recorded Live In Lafayette, which features an acoustic disc and an electric disc. The new record brings both sides together without concern for how the layered tracks might be arranged for the bandstand. "Different approaches can influence one another – and for me, that just makes it more musical, more interesting," Landreth explains.
The first of two Conn compositions follows with a new arrangement built around a guitar tuning Landreth developed but had not yet used in the studio. "Somebody Gotta Make A Move" also features its composer on Wurlitzer electric piano and Hammond B-3 organ. "I could see this one becoming a blues standard," Landreth says. "That's the mark of a great song."
"Beyond Borders" picks up the pace and features Conn in a role originally envisioned for Carlos Santana. Landreth composed the instrumental for From The Reach, his 2008 release featuring guest artists Eric Clapton, Eric Johnson, Vince Gill and others. "It's complex," Landreth says, "and now seems tailor-made for Steve." "Don't Ask Me," the second Conn cut, delves into existential mysteries with humor via an acoustic, back porch Delta feel. Brignac played cajón, Ranson played ukulele bass, and Conn stretches out on accordion.
"The Wilds of Wonder" is a cinematic tribute to the brave folks working on the front lines of our planet's environmental crises. And the shape-shifting instrumental "Many Worlds" builds on the previous number's rich textures to bring the record to its final cut, "Something Grand," the first Landreth recording in years without a guitar solo. That last tune, he says, "is a song of redemption. And though it's between two people in a relationship, it also speaks to life's larger challenges."
After two Grammy nominations, multiple appearances at Clapton's Crossroads Guitar Festival and wide-ranging acclaim from fellow players and fans worldwide, Landreth is looking forward to playing the new material live. He'll continue mixing electric and acoustic settings onstage, with Daigle bringing the sounds and concepts of the recording studio to venue mixing consoles.
"It's all about telling the story," Landreth says, "and as long as I can find my way up that path, I'm all in." As the songwriter's narrator sings in the title number of Blacktop Run, "A new day is dawning and I have never felt so alive."
Additional notes:
Landreth apprenticed with zydeco king Clifton Chenier's Red Hot Louisiana Band and a host of other accomplished roots artists.
Eric Clapton says, "Sonny Landreth is probably the most underestimated musician on the planet, and also probably one of the most advanced."
Landreth's innovative guitar techniques have opened doors to new sonic textures and a complex tonal vocabulary, all bound by the bayou rhythms of his longtime bandmates. His expressive, ethereal guitar work can be heard on hundreds of recordings from artists ranging from John Mayall to John Hiatt.
"All told, the different elements of this project came together and I'm really happy about it," Landreth says. "Blacktop Run is probably the most eclectic recording I've done. And sonically, I think this is the best album we've ever made."
Brad Walker & The Hornstars
Brad Walker is one of the most active and sought-after performers in the city of New Orleans. Perhaps best known for his "soaring" (Rolling Stone), "energetic" (NPR), and "tasteful" (Relix) solos on Saturday Night Live, the Grammys, and the Tonight Show with Nashville mega-star Sturgill Simpson, Brad Walker is an active and compelling artist in his own right, with five full-length releases under his own name and a decade of music- making in the Crescent City under his belt. His 2014 debut, 'Quintet', received a 4-**** review in DownBeat magazine, and his playing has received praise in Variety, OffBeat Magazine, Gambit Weekly, Dig!, and many others.
Since 2009 Walker has performed or recorded with such luminaries as Bernard Purdie, Peter Erskine, John Riley, George Porter, Jr., Zigaboo Modeliste, Anders Osborne, Marcia Ball, Rickie Lee Jones, Valerie June, Better than Ezra, and countless others, and has led the horn sections for Grammy-winner Sturgille Simpson, Blues Award-winner Ana Popovic and OffBeat Award winners Eric Lindell, Johnny Sketch and the Dirty Notes, Honey Island Swamp Band, and Colin Lake.
In 2019/2020, Walker was nominated for two 'Best of the Beat' Awards (OffBeat Magazine), in the 'Contemporary Jazz' category as 'Best Artist' and for 'Best Record', alongside such international stars as Nicholas Payton, Jon Batiste, Herlin Riley, Christian Scott, and Terence Blanchard. He was also nominated by the 'Big Easy Awards' (Gambit Magazine) for 'Best Contemporary Jazz Artist'. These two award ceremonies are considered among the highest achievements in the New Orleans music community.
Brad holds a Bachelor of Music degree in classical saxophone performance (2006) and Master of Music degree in jazz studies (2011), both from Louisiana State University.
Andrew Duhon Trio
Duhon's most common live band iteration, The Andrew Duhon Trio brings an upbeat musicality to his tunes with upright bassist, Myles Weeks and drummer , Jim Kolacek singing three part harmony.