Tipitina's Presents
Billy Iuso's Birthday Bash With Special Guests Papa Mali, Big Chief Juan Pardo, John "Papa" Gros, Mike Doussan, and Rurik Nunan
with
Billy Iuso
,
Papa Mali
,
Big Chief Juan Pardo
,
John "Papa" Gros
,
Mike Doussan
,
Rurik Nunan
January 26, 2023
9:00 pm
CST
(Doors:

8:00 pm

)
Ages 18 and Up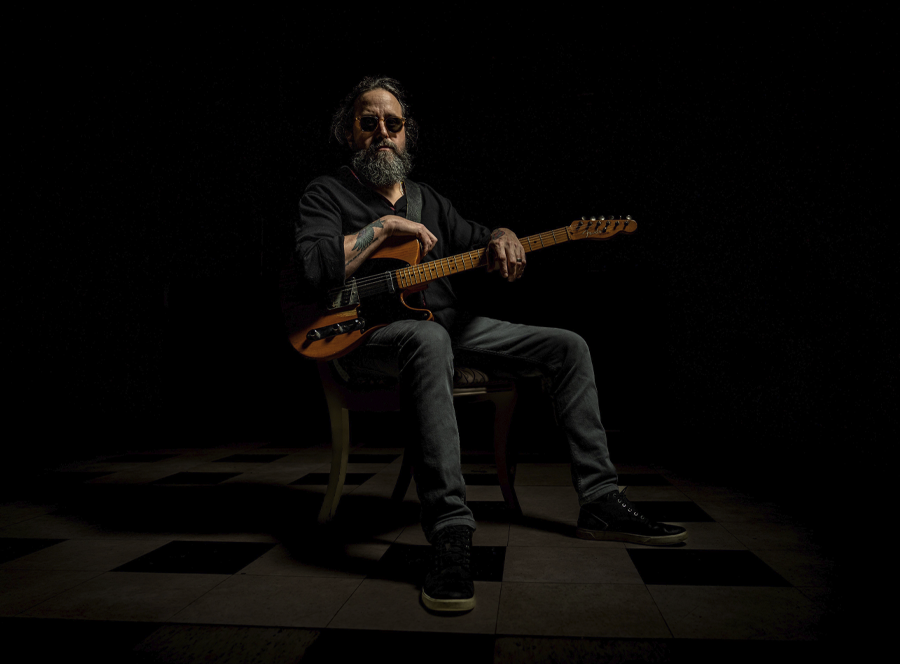 $15.00
Billy Iuso
When a music maker finds their calling, little can stop them from sharing their gift. It's the passion for the song, the fire in the music, the drive to make other people smile that keeps musicians going even through the toughest times. It's what motivated Billy Iuso for the past 30+ years of playing, what saved him during the pandemic, and what has encouraged him to stay singing.
Like many other musicians during the challenging year that was 2020, Iuso turned to live streaming and eventually had a weekly show that earned him enough tips from his generous fans to compare with his regular income. He ended up playing over 350 different songs during this series, including a whole slew of new tunes that sparked a new record.
Featuring songs like "My Getaway" and "More to the Island," it's easy to see how this album was lockdown-inspired. But he also had a chance to reach back in his catalog and revamp tunes from his teens, like "Shine On and Look Inside," which indeed became apt for the time.
The new album features the legendary Reggie Scanlan (The Radiators) on bass, long time drummer Eddie Christmas, Joe Ashlar and Andriu Yanovaski on keys, and additional vocals by Sari Jordan and Renée Gros.
As a New York native, Iuso spent his first decade in music playing with his band Brides of Jesus. Growing from the jam-driven Wetlands scene, they were touring with the likes of Blues Traveler, Widespread Panic, and Dave Matthews Band. After an opportunity to open for the Funky Meters, Iuso's new friend George Porter Jr. convinced him to move to the Big Easy .
Iuso found his stride when he moved to New Orleans in 1996. Five years later, BOJ released their last record and disbanded. During a break from performing, Iuso was a Tour Manager for the Meters, Neville Brothers, and George Porter Jr., cementing those lifelong friendships & learning the business from the other side of the stage. Missing playing his own music, he formed Billy Iuso & the Restless Natives in 2002.
Iuso continued recording new music under his name and touring with Restless Natives as his band. He released a number of records including "Trippin," which found itself on rotation at New Orleans WWOZ Radio. Over 10 years later, "Trippin' Over Dragons" is still regularly requested and heard on local stations.
Restless Natives played many festivals and events until 2021, when Iuso decided to drop the band name entirely and streamline both the sound and the band. Now billed simply as Billy Iuso, he plays with many of those band members as well as other friends and heavy hitters in the New Orleans music scene.
John "Papa" Gros
"Sharing New Orleans with the world is my calling." - John "Papa" Gros

New Orleans has its fair share of musical ambassadors; but few are more rooted in the cracked sidewalks and popping speakers of the Crescent City than John "Papa" Gros. Born and raised in the city, Papa Gros melds funk, rock, jazz, and blues to deliver a sound that is both innovative and unmistakably New Orleans.

Papa launched his career as a solo performer in the early 1990s, quickly gaining attention from marquee artists such as George Porter Jr. and Snooks Eaglin, both of whom brought him on board as a supporting musician. As he sat behind the keys, backing up some of the city's most iconic musicians, he soaked in a lifetime of experience and continued to develop his craft. He released his solo debut, Day's End, in 2004.

The next dozen years would be dedicated to leading and recording six albums with his band,
Papa Grows Funk. He returned to solo work with 2016's River's On Fire and cemented his legacy as a part of the direct lineage of New Orleans music with 2020's Central City. The complete selfportrait of John "Papa" Gros has been revealed.

In keeping with the energy and spirit the Big Easy is known for, Papa Gros is a consummate live performer. His infectious band shows have been the highlight of festivals and venues across the U.S. and Europe, showcasing versatile musicianship, relentless grooves, and eclectic songcraft of the highest order.

Drawing on the full breadth and depth of his extensive catalog, Papa's live performance marries style with substance, bringing that unique, can't-put-your-finger-on-it magic of New Orleans and infusing the audience with a joyous energy few artists can match.

" John "Papa" Gros is a bedrock New Orleans artist, a keyboardist, singer and songwriter who
draws on funk, rhythm & blues and Americana songcraft; he also knows his way around the
Mardi Gras music repertoire about as well as anyone. " -The New Orleans Advocate.
Mike Doussan
"Mike Doussan's story is intrinsic to the human condition. There's pain and pleasure, grit and grace, but much like the city of New Orleans and music itself, true beauty rises from chaos. His songs are proof." -(Brett Hutchins www.liveandlisten.com)

Mike Doussan, a New Orleans native, started playing guitar at the age 8 and made his way into the New Orleans club scenes in 2004 at the age of 24. With guitar in hand he walked into different clubs with the intent of playing a couple of tunes with whomever was on stage. He then became a regular at The Apple Barrel playing blues with Mike Hood and the Frenchmen St. Delegation, at Banks St. Bar playing funk with New Orleans Juice, and anywhere Eric Lindell was taking stage with his blue-eyed soul ensemble. It wasn't long before he fronted his own band, West Bank Mike and the Fisher Project. Rooted in New Orleans funk and blues, the Fisher Project would go on to win Best Blues Band at the 2006 Sonny Boy Blues Society's "Battle of the Bands."

Muse in the Kitchen, Doussan's first album was recorded at Word Of Mouth Studios in historic Algiers Point in 2005. The last note being recorded just two days before Hurricane Katrina devastated the city. Luckily, the music was saved and the album was released in 2006.

Doussan then recorded Sin or Salvation at the Living Room Studio on the New Orleans West Bank. Each track draws on varying influences of rock, funk, country, but all comes together to be an unmistakingly New Orleans sound. Five weeks before its release in March 2014 the Doussan family experienced a tragedy that fundamentally changed Mike's perspective. His brother, Brett Doussan, died by suicide. The song "Spend the Night" was co-written by Mike and Brett along with Dave Jordan and the late Jamie Galloway.

Following the release of Sin Or Salvation and the untimely death of his brother, Doussan joined Dave Jordan and the NIA full time as lead guitarist. During his tenure with the NIA, Doussan played a central role in the writing and recording of the NIA's 2016 release, No Losers Tonight. After 4+ years of touring and recording with the NIA, Doussan decided it was time to move on and revisit his own writing and solo career.

In August 2017, Mike Doussan teamed up with Roxy Bergeron of CSB Roxy Music and Bassist/Producer Charlie Wooton to record a collection of all new original songs that were recorded in Music Shed Studios in the Lower Garden District of New Orleans. Grammy-winning engineer Eric Heigle (Arcade Fire, Lost Bayou Ramblers) was then brought in to mix the record along with Grammy-nominated engineer Pete Lyman (Brandi Carlile, Jason Isbell, John Prine) for the final task of mastering at Infrasonic Sound in Nashville.

Yesterday's Troubles was released May 2019.

Over the past 5 years since his brother's death, Doussan has been working in advocacy and fundraising for both suicide prevention and mental health awareness. His mother, Lisa, along with friends and family, started up a non-profit called the Brett Thomas Doussan Foundation. The foundation's mission is to raise mental health awareness through advocacy, education, and music. Doussan also serves on the executive board of Upturn Arts as Vice President. Upturn Arts provides arts education that is accessible to children of all socioeconomic backgrounds in the New Orleans area.

Mike is married to his wife of nine years, Maggie, and he has three children. They reside in New Orleans.