Tipitina's Presents
A Tribute to Walter "Wolfman" Washington
with
The Roadmasters
,
Leo Nocentelli
,
Mem Shannon
,
Jon Cleary
,
Galactic
,
Ivan Neville
,
Little Freddie King
,
Johnny Sansone Band
,
Ricci Krown Trio
,
John "Papa" Gros
,
The Tin Men
January 8, 2023
Doors:

5:00 pm

/
Show:

6:00 pm
CST
Ages 18 and Up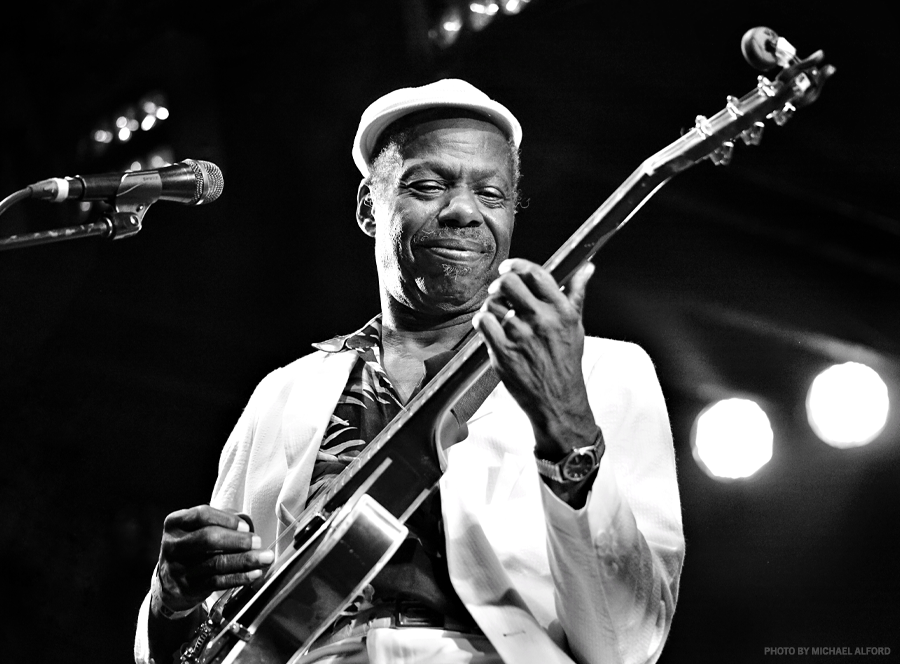 $25.00
Featuring The Roadmasters with Leo Nocentelli, Mem Shannon, Jon Cleary, and More, Galactic, Ivan Neville, Little Freddie King, Johnny Sansone Band, Ricci Krown Trio, John "Papa" Gros, and The Tin Men
For more on the life of Walter please read
this article
by Keith Spera.
**Admission will also be valid at the door with a minimum $25 donation supporting Walter Wolfman Washington's funeral & medical costs.

**If you're unable to make the event and/or want to show your support to Walter directly, please consider making a donation to his GoFundMe page: GoFundMe page here.
Leo Nocentelli
Leo grew up in the Irish Channel and Seventh Ward neighborhoods of New Orleans. He was encouraged by his father to pursue music. He played ukelele at an early age and started on guitar at age twelve. He gravitated to jazz and was influenced by jazz guitarists Charlie Christian, Barney Kessel, Johnny Smith and Kenny Burrell. His first professional gig was at age thirteen. By age fourteen he was backing notable musicians such as Otis Redding and Clyde McPhatter. He played jazz, Dixieland, rhythm and blues, and rock. He joined the Hawketts and developed a reputation as a guitarist. At age seventeen he did session work for Motown acts including the Supremes, Temptations, and Spinners.

60s and 70s
In 1964 Leo was drafted and served in the army for two years. During leaves he did session work in New Orleans. After the service he joined Art Neville and the Neville Sounds, at the time a recently founded seven-piece band. By 1968 the band consisted of four members: Leo, Art Neville, George Porter, and Ziggy Modeliste. The band had a fluid style and each instrument was free to go anywhere musically. The band performed dance-style rhythm and blues at the Ivanhoe nightclub six nights a week. On Sundays, Leo, Porter, and Modeliste performed jazz gigs. Leo said his bandmates were his biggest influence and called his experience up to this point in time the learning phase of his career.

The band released two singles as The Meters, "Sophisticated Cissy" and "Cissy Strut", both originally written by Leo. The commercial success of "Cissy Strut" became an impetus for the band's subsequent recording career as The Meters. From 1969 to 1977 the band released eight studio albums, with Leo as one of the primary songwriters. He wrote the original versions of funk songs such as "People Say" and "Hey Pocky A-Way". Early on, improvisation was a major part of song development. Though the band gained notoriety in the music community, the lack of commercial success along with managerial and artistic factors gave way to their disbandment in late 1970s.

Throughout the 1960s and 1970s, Leo wrote, co-wrote and did session work – mostly in Cosimo, Sansu, and Sea-Saint studios. As songwriter and producer, he learned from and was influenced by Allen Toussaint. He backed a variety of artists such as Dr. John, Robert Palmer, Albert King, Etta James, Joe Cocker, Earl King, Chris Kenner, and Betty Harris.

70s to Present
In 1971, Leo recorded a solo debut album called Another Side. He wrote the album during a brief span when the Meters were split up. Leo sidelined the project because the Meters scored a record deal with Warner in 1972 and it was not released until 2021.

In the early 1980s Leo toured with Jimmy Buffett. He moved to Los Angeles in 1982. He continued to do session work and performed regularly with former bandmate George Porter as GEO/LEO. He also remained close with Modeliste, who had moved to the San Francisco Bay Area. They performed in various quartet formations and released a live album titled Leo: Live in San Francisco. At one of their shows in 1989, Leo and Porter invited Modeliste and Neville on stage. The impromptu performance was the first reunion of the original Meters. The same year Leo, Neville, and Porter formed The Funky Meters with Russell Batiste on drums. Leo performed with the reincarnated lineup until 1993.

Leo briefly moved back to New Orleans in the early 1990s and returned to Los Angeles in 1992. He continued to perform with two Meters-inspired lineups: The Meter Men and The Meters Experience. The Meter Men are Leo, Porter, and Modeliste with Page McConnell on keyboards; variations included keyboardists Rich Vogel, John Gros, and drummer Russell Batiste. The Meters Experience is Leo in various quartets with Bernie Worrell, Bill Dickens, Oteil Burbridge, Al Di Meola, Jason Crosby, George Laks, Albert Margolis, Jamal Batiste, Ricky Cortez, Felix Pollard, and others.
Jon Cleary
Jon Cleary's love and affinity for New Orleans music goes back to the rural British village of Cranbrook, Kent, where he was raised in a musical family. Cleary's maternal grandparents performed in London in the 1940s, under the respective stage names Sweet Dolly Daydream and Frank Neville, The Little Fellow With The Educated Feet – she as a singer, and he as a crooner and tap dancer.
As a teen Cleary grew increasingly interested in funk-infused music and discovered that three such songs that he particularly admired – LaBelle's "Lady Marmalade," Robert Palmer's version of "Sneakin' Sally Through the Alley," and Frankie Miller's rendition of "Brickyard Blues" – were attributed to Allen Toussaint as either the songwriter, the producer, or both. Cleary's knowledge of Toussaint's work expanded significantly when his uncle returned home to the U.K., after a two-year sojourn in New Orleans, with a copy of a Toussaint LP and two suitcases full of New Orleans R&B 45s.
In 1981 Cleary flew to New Orleans for an initial pilgrimage and took a cab straight from the airport to the Maple Leaf Bar, a storied venue which then featured such great blues-rooted eclectic pianists as Roosevelt Sykes and James Booker. Cleary first worked at the Maple Leaf as a painter, but soon graduated to playing piano there – even though his first instrument was the guitar, which he still plays and has recently reintroduced into his live performances.
As word of Cleary's burgeoning talent began to spread around town, he was hired by such New Orleans R&B legends as Snooks Eaglin, Earl "Trick Bag" King, Johnny Adams, and Jessie "Ooh Poo Pah Doo" Hill, while also gaining the respect of the great Crescent City pianists Dr. John and the late Allen Toussaint. Years later, in 2012, Cleary recorded a critically acclaimed album of all-Toussaint songs entitled Occapella.

Today, Cleary's work pays obvious homage to the classic Crescent City keyboard repertoire created by such icons as Jelly Roll Morton, Fats Domino, Professor Longhair, Art Neville, Dr. John, and James Booker – while also using it as a launching pad for a style that incorporates such other diverse influences as '70s soul and R&B, gospel music, funk, Afro-Caribbean and Afro-Cuban rhythms, and much more.
Deciding to stay in New Orleans, Cleary recorded his first album of nine, to date, in 1989. His ever-elevating profile led to global touring work in the bands of Taj Mahal, John Scofield, Dr. John, and Bonnie Raitt. Cleary has led his own group, the Absolute Monster Gentlemen, for over two decades now, but he still collaborates frequently with these old friends. At the 2018 New Orleans Jazz & Heritage Festival, for instance, Cleary performed alongside Raitt in a heartfelt tribute to Fats Domino.
Galactic
History doesn't stand still. It impacts, influences, and inspires the ebb and flow of the future by informing the present. Galactic draw on 25 years together in order to progress with each performance and subsequent record. After 10 albums, over 2,000 gigs, and tens of millions of streams, the proud New Orleans, LA quintet—Ben Ellman [saxophone, harmonica], Robert Mercurio [bass], Stanton Moore [drums, percussion], Jeffrey Raines [guitar], and Richard Vogal [keyboards]—have kept the torch burning through five U.S. presidential regimes, the turn-of-the-century, Hurricane Katrina, a Global Pandemic, and a much-anticipated recovery. They're the rare collective who can support Juvenile on Jimmy Kimmel LIVE!, contribute music to a blockbuster soundtrack such as Now You See Me, and light up the stages of Coachella, Bonnaroo, and New Orleans Jazz & Heritage Festival (a staggering 22 times).

Joined by vocal powerhouse Anjelika "Jelly" Joseph, they continue to forge ahead with a 2021 headline tour and more new music.

"There is a history to the band, yet we continue to release and perform new material," says Stanton. "I'm truly excited for our fans and audience to hear this next record we've been working on. I think it's some of our best work yet."

They laid the groundwork for this future upon coming together in 1994. Two years later, the guys dropped their full-length debut, Coolin' Off, and hopped in a Ford Econoline van (with trailer in tow) for their very first official tour. Along the way, they released seminal albums such as 2007's From the Corner to the Block, boasting collabs with the likes of Chali 2na, Juvenile, Trombone Shorty, DJ Z-Trip, and Boots Riley. During 2015, Into The Deep marked their first debut in the Top 25 of the Billboard Top 200 and second straight #1 bow on the Billboard Top Contemporary Jazz Albums Chart. Not to mention, it boasted the title track "Into The Deep" [feat. Macy Gray], racking up nearly 20 million streams and counting. Along the way, they performed alongside the likes of Dave Matthews Band, The Roots, Jack Johnson, Talib Kweli, the Allman Brothers Band, Widespread Panic, B.B. King, Counting Crows, James Brown, and many more. They've also recorded and performed with the likes of Allen Toussaint ["Bacchus"] and Big Freedia "Double It"]. Most recently, 2019's Already Ready Already garnered acclaim from New York Times, NPR Weekend Edition, Exclaim!, and many more, while they've appeared on the covers of Downbeat and Relix Magazine.

Around the same time, they welcomed Jelly to the fold after joining forces on stage for a handful of unforgettable performances.

"I was super nervous at first, because I had some pretty big shoes to fill—but like those other singers I had to bring myself and I think I've fit in pretty well," Jelly smiles.

"Jelly came to Fuji Rock in Japan with us to sing background with Macy Gray," recalls Stanton. "We needed someone to sing one of our Galactic originals, and she stepped up. Since there was no time for rehearsal or soundcheck, she showed up prepared, knew the tune completely, and rocked it. When it came time to find someone new to sing with us, she was our first choice. She has such effortless stage presence and a very comfortable rapport with audiences. She also brings an element of unbridled fun!"

That fun came across loud and clear on the 2020 single "Float." Uplifted by Jelly's powerhouse pipes, it hinted at the potential of their collective chemistry.

"I love listening to Galactic's older records, because they were very funk driven," Jelly goes on. "Now, it seems like they're incorporating more pop, rock, and soul to create a newer sound."

As they continue writing, recording, and performing, Galactic always keep New Orleans close to their hearts at all times. In 2018, the band purchased and took over one of the city's most hallowed venues—Tipitina's Nightclub. Their history with the venue even predated the band as Ben's first job was as a cook in the old kitchen, while they've graced its stage more than 100 times over the years.

In the end, Galactic keep moving forward as they add more chapters to their incredible history.

"We've just achieved 25 years as a band of brothers, so we know how to work with each other and move ourselves through the next 25 years," Robert leaves off. "We're always trying to push ourselves with our songwriting and studio collaborations. I look forward to where the future will take us."
Little Freddie King
If you want the real blues - and I'm not talkin about some long-haired hippy beatin' on a National Resonator guitar or a mustachiod, Italian-suited slickster blowin' on a chromatic harmonica - baby, you'd better call Little Freddie King, Normally only seen once a month at BJ's Lounge located in the lowest bowels of the mighty Ninth Ward, where he shares floor space with a pool table and various carpet remnants, don't think for a second that his band won't be able to create the proper mood without their usual scrappy surroundings. The minute Freddie straps on his guitar and strikes up his gnarled chord and drummer "Wacko" Wade makes his presence known with a definative cymbal crash, this lean, mean, swampy aggregation of gut-bucket wild men transforms the poshest of venues into a back-of-town beer joint.

Born in McComb, Mississippi in 1940, Fread E. Martin grew up playing alongside his blues guitar-picking father (Jessie James Martin), then rode the rails to New Orleans during the early fifties where he crossed paths with itinerant South Louisiana blues man such as "Poka- Dot" Slim and "Boogie" Bill Webb whose unique country-cum-urban styles would influence his own. Honing his guitar chops at notorious joints like the Bucket of Blood (which he later immoralized in song), he jammed and gigged with Bo Diddley and John Lee Hooker, and also played bass for Freddy King during one of the guitarist's stints in New Orleans. People began comparing the two musicians' styles, hence Martin's nome-de-plume. While well-vested in a variety of styles, nowadays Little Freddie sounds a lot more like his cousin Lightin' Hopkins - albeit after a three day corn liquor bender! Nevertheless, the King sobriquet if fitting, as Freddie is undeniably the monarch of the Crescent City blues scene.

Freddie's mid-sixties recording debut - an unreleased session for Booker/Invicta Records - is one that will seemingly live forever in blues infamy. The very same notorious basement set-up that released so many killer discs by gospel guitar-slinger the Reverend Charlie Jackson - as well as below-the-radar classics by the Zion Harmonizers, the Rocks of Harmony and Sister Alberta - the pairing of label and artist could hardly have been more perfect. If the lost tape is ever discovered, it'll be a watershed day in musicial history, so start digging!!

Slightly easier to find, but occasionally almost as elusive, is Freddie's actual debut, a 1971 LP on New Orleans' Ahura Mazda Records on which he shared billing with his band mate John S. "Harmonica" Williams, Unofficially titled Rock and Roll Blues, the nine original songs that make up the LP are raw, gut-wrenching and filled with passion. "Born Dead" is an unbelievable survey of racism in Mississippi courtesy of vocalist Newton Greer, while Williams and King are featured strongly throughout. Freddie contributes two rocking instrumentals, "Sideways" and "The Kings' Special." While it was a milestone in New Orleans blues, the album's potent nastiness went under appreciated at the time. Leave it to Little Freddie to resurface 36 years later with Swamp Boogie - Orleans Records, an album of purely original material (notable titles are "The Great Chinese" and "Cat Squall Blues") that features the likes of Earl "Pass the Hatchet" Stanley on bass!
He followed it in 2000 with Sing Sang Sung, a greasy live set that documented more New Orleans street poetry like "Bad Chicken" and the aforementioned "Bucket of Blood".

Reviewing Sing Sang Sung for Offbeat Magazine. Local blues writer Robert Fontenot captured the Little Freddie phenomena perfectly; "It ain't pretty...you can practically smell the Chinese food and chicken coming from Chun King...the slop bucket wheeze put out on his cover of King Curtis's "Soul Twist" is potent enough to turn George W. Bush into the Godfather of Soul. It's is THAT country and THAT ghetto." And that's about all you need to know, except that Freddie last recording was in 2005 with Fat Possum Records and this cd entitled You Don't Know What I Know received #1 record on Red Licks blues listing in England as top blues album of 2006 which contains his genius "Crackhead Joe". Messin' Around tha House, His 2008 release (MadeWright Records) is a fusion of blues with a couple of hypnoic hip-hop tunes that shows his willingness to expand his blues horizon. This cd is a must for KingHead fans and has surpass his excellent 2005 FP release. Going "Live" is very difficult to capture by a sound crew, but Gotta Walk with Da King (MadeWright Records-2010) nailed the real juke joint sound on a large Festival Stage. We've said it before and we'll say it again" Little Freddie King not only plays the blues, he lives the blues. Now in 2012, his new release entitled Chasing tha Blues, a collection of new songs pretaining to his struggles with a woman and a storm named after a woman - "Katrina"
John "Papa" Gros
"Sharing New Orleans with the world is my calling." - John "Papa" Gros

New Orleans has its fair share of musical ambassadors; but few are more rooted in the cracked sidewalks and popping speakers of the Crescent City than John "Papa" Gros. Born and raised in the city, Papa Gros melds funk, rock, jazz, and blues to deliver a sound that is both innovative and unmistakably New Orleans.

Papa launched his career as a solo performer in the early 1990s, quickly gaining attention from marquee artists such as George Porter Jr. and Snooks Eaglin, both of whom brought him on board as a supporting musician. As he sat behind the keys, backing up some of the city's most iconic musicians, he soaked in a lifetime of experience and continued to develop his craft. He released his solo debut, Day's End, in 2004.

The next dozen years would be dedicated to leading and recording six albums with his band,
Papa Grows Funk. He returned to solo work with 2016's River's On Fire and cemented his legacy as a part of the direct lineage of New Orleans music with 2020's Central City. The complete selfportrait of John "Papa" Gros has been revealed.

In keeping with the energy and spirit the Big Easy is known for, Papa Gros is a consummate live performer. His infectious band shows have been the highlight of festivals and venues across the U.S. and Europe, showcasing versatile musicianship, relentless grooves, and eclectic songcraft of the highest order.

Drawing on the full breadth and depth of his extensive catalog, Papa's live performance marries style with substance, bringing that unique, can't-put-your-finger-on-it magic of New Orleans and infusing the audience with a joyous energy few artists can match.

" John "Papa" Gros is a bedrock New Orleans artist, a keyboardist, singer and songwriter who
draws on funk, rhythm & blues and Americana songcraft; he also knows his way around the
Mardi Gras music repertoire about as well as anyone. " -The New Orleans Advocate.
The Tin Men
The Tin Men are America's premier sousaphone, washboard and guitar trio. They have been performing at home in New Orleans, around the USA and abroad since 2002, and in August 2015 have released their fourth CD, "On The Shady Side" which was produced by Mark Bingham. Like 2013's "Avocado Woo Woo", 2005's "Freaks For Industry" and 2003's "Super Great Music for Modern Lovers", the new CD finds percussionist/vocalist Washboard Chaz, sousaphonist Matt Perrine and Guitarist vocalist Alex McMurray exploring a truly eclectic array of North American Pop music from jug band to swing jazz to New Orleans R&B to Motown to Easy Listening to Heavy Metal and beyond. Through it all they put their own zany spin on the material and make it their own. Throw in a generous dose of McMurray's own songs, the precocious wit of Perrine's sousaphone and Washboard Chaz's seemingly boundless charm and the result is what has been described as "One of the most interesting bands to emerge from New Orleans in years" (Offbeat Magazine)