The Daze Between Band
with
Eric Krasno
,
Ivan Neville
,
George Porter, Jr.
,
Rick Mitarotonda
,
Jennifer Hartswick
,
Peter Anspach
,
Ryan Zoidis
,
Tony Hall
,
Raymond Weber
,
DJ Soul Sister
May 3, 2023
Doors:

9:30 pm

/
Show:

10:30 pm
CDT
Ages 18 and Up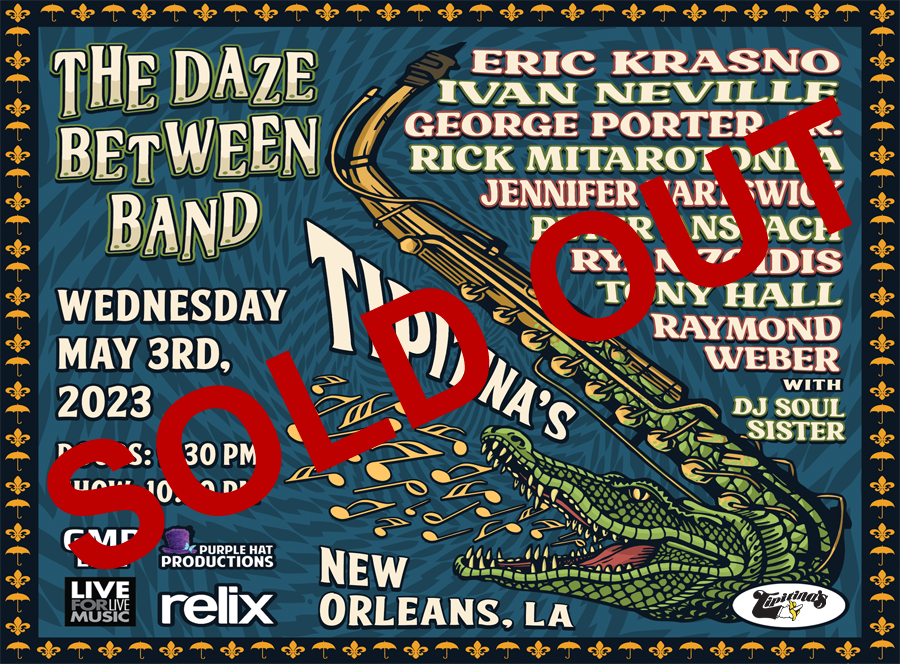 SOLD OUT
Featuring Eric Krasno, Ivan Neville, George Porter, Jr., Rick Mitarotonda, Jennifer Hartswick, Peter Anspach, Ryan Zoidis, Tony Hall, and Raymond Weber
With DJ Soul Sister


** PLEASE NOTE: Tickets purchased in-person at the Tipitina's Box Office will be assessed sales tax and service charges for this event.

Tickets will cost $60 per ticket cash, $63 per ticket credit/debit.

The Tipitina's Box Office is open Mon-Fri (10AM-4PM), is located at 501 Napoleon Ave, New Orleans, LA 70115, and can be reached directly for any inquiries at 504-895-8477. **
Eric Krasno
Soulive and Lettuce co-founder, singer, multi-instrumentalist, and two-time GRAMMY® Award-winning songwriter-produce Eric Krasno continues to evolve with each record, project, and performance. Something of a musical journeyman, his extensive catalog comprises three solo albums, four Lettuce albums, twelve Soulive albums, and production and/or songwriting for Norah Jones, Robert Randolph, Pretty Lights, Talib Kweli, 50 Cent, Aaron Neville, and Allen Stone. As a dynamic performer, he's shared stages with Rolling Stones, Dave Matthews Band, John Mayer, and The Roots. Out of seven nominations, he picked up two GRAMMY® Awards for his role as a songwriter and guitarist on Tedeschi Trucks Band's Revelator and guitarist on Derek Trucks Band' Already Free. In 2019, he served up Telescope under the KRAZ moniker. The cinematic concept album earned widespread acclaim from the likes of Relix and Salon who hailed it as "a timely New York story." On his 2021 fourth full-length solo offering Always, he defines himself as not only an artist, but also as a husband, father, and man across these ten tracks with inimitable instrumentation, eloquent songcraft, and raw honesty.

Grammys
Tedeschi Trucks Band - Revelator (Best Blues Album Winner) Songwriter/Guitarist
Tedeschi Trucks Band - Live In Oakland (Best Contemporary Blues Album Nominee) Guitarist
Derek Trucks Band - Already Free (Best Contemporary Blues Album Winner) Guitarist
Ledisi - Turn Me Loose (Best R&B Album Nominee) Producer
Pretty Lights - Color Map Of The Sun (Best Electronic Album Nominee) Multi-Instrumentalist
Tedeschi Trucks Band - Live in Oakland (Best Contemporary Blues Album Nominee) Songwriter
Robert Randolph - Got Soul (Best Contemporary Blues Album Nominee) Songwriter/Guitarist
Producer Highlights
Aaron Neville - Apache (Producer/Songwriter Full Album)
50 Cent - My Gun Go Off (Producer/Writer)
Talib Kweli & Norah Jones - Soon The New Day (Producer)
Talib Kweli & Justin Timberlake - Nature (Producer/Writer)
Vieux Farka Toure - The Secret feat. Dave Mathews & various special guests (Producer Full Album)
Lawrence - Breakfast (Producer Full Album)
Marcus King Band - Producer (coming in 2018)
Collaborations
Gramatik & Eric Krasno - Recovery
Gramatik & Eric Krasno - Torture (featured on 'Narcos' & 'Step it Up')
Griz & Eric Krasno - Wicked
Griz & Eric Krasno - Gotta Push On
George Porter, Jr.
New Orleans music royalty and Grammy Lifetime Achievement Award recipient

George Porter Jr. founded The Meters in 1965 alongside Art Neville, Leo Nocentelli and Joseph Zigaboo Modeliste. Known as one of the progenitors of funk with Sly & The Family Stone and Parliament Funkadelic, The Meters carved their own place in history with syncopated polyrhythms and grooves inherited from New Orleans' deep African musical roots. Porter's heavy pockets and fat notes created the rubbery bass lines behind anthems like "Cissy Strut" off the group's self-titled 1969 debut — The Meters' greatest commercial single that reached No. 4 on the R&B chart and No. 23 on the Billboard Hot 100.

The Meters became the house band for Allen Toussaint's recording label and studio in New Orleans, backing records for Dr. John, Paul McCartney, Lee Dorsey, Earl King, Robert Palmer and Patty Labelle's No. 1 hit, "Lady Marmalade". They toured with the Rolling Stones and influenced everyone from Led Zeppelin and Bob Marley to the Red Hot Chili Peppers and the Beastie Boys. Porter's rhythmic work with drummer Modeliste became the building block behind scores from hip-hop artists A Tribe Called Quest, Run DMC, N.W.A. and Queen Latifah, all of whom sampled The Meters.

The band broke up in 1977, after Toussaint claimed rights to the name, but reformed in the 1980s as the Funky Meters following an informal jam during the New Orleans Jazz & Heritage Festival. Porter went on to become a highly coveted session bassist. He notched studio sessions with David Byrne, Jimmy Buffet, Tori Amos and Taj Mahal; and live performances with John Scofield, Warren Haynes, members of the Grateful Dead and countless others.

Porter started his own long-term project, the Runnin' Pardners, in 1990. The group's studio releases include Funk This (2000) and Can't Beat the Funk (2011), as well as live albums along the way. The current lineup features drummer Terrence "Groove Guardian" Houston, Michael Lemmler on keyboards and guitarist Chris Adkins.

In 2000, the original Meters lineup reunited for a one-night stand at the Warfield in San Francisco, and again in 2006 to headline Jazzfest in the wake of Katrina. The group sporadically performed as The Original Meters to elated crowds between 2012 and 2017. Art "Poppa Funk" Neville retired from performing in 2018 and passed away the following year. But the Meters' music and their heritage of funk lives on in George Porter and his bandmates – past, present and future.

Born and raised in the Crescent City, Porter, now in his 70s, calls New Orleans home to this day.
Jennifer Hartswick
Trumpeter and vocalist, Jennifer Hartswick is one of the most exciting performers in music today. She exudes confidence and joy and brings her own refreshing spirit to the stage every time she performs. Jennifer's music is honest, soulful and comes with a maturity far beyond her years.
Hartswick is an original member of the Trey Anastasio Band and has recorded/shared the stage with Herbie Hancock, Phish, Christian McBride, Tom Petty, Aaron Neville, Carlos Santana, The Rolling Stones, Big Gigantic, Dave Matthews and countless others.
Jennifer's live performances are renowned as spontaneous, joyful and contagious. Her natural charisma and sincerity shines through, and each performance is a celebration of musical collaboration. And whether she is wailing on the trumpet or singing an intimate vocal solo, her performance is all part of a single seamless instrument, one that is played not only with astounding technical proficiency, but also with sensitivity, conviction and heart.
DJ Soul Sister
DJ Soul Sister is an internationally-known, veteran DJ artist, whose broadcast programs and live performances feature only the music she loves: 1970s – mid-1980s soulful rarities in R&B, funk, disco, jazz, and more from her personal collection of thousands of vinyl records.

A native of New Orleans, Soul Sister has hosted her Soul Power show on WWOZ FM New Orleans for 25+ years, and has hosted internationally-aired radio programs on Sonos Radio and Worldwide FM, among others.

As a performance DJ, she is the first to win New Orleans' prestigious Big Easy Entertainment Award for "Best DJ." She has also performed everywhere from the New Orleans Jazz & Heritage Festival, Voodoo Music Experience, Essence Music Festival (mainstage DJ 2008-2010), BUKU Music & Art Project, Jam Cruise, Boiler Room, and Electric Forest. Soul Sister has opened for many of her favorite artists like George Clinton and Parliament-Funkadelic, The Roots, Bootsy Collins, Maceo Parker, DaM-FunK, Average White Band, George Duke, Teena Marie, Doug E. Fresh, ConFunkShun, Switch, the funky Meters, Dumpstaphunk, Chuck Brown & the Soul Searchers, Soul Rebels, Lettuce, Tower of Power, and more; and has also performed alongside DJ artists/producers such as Questlove, DJ Jazzy Jeff, Mannie Fresh, KON, Maseo (De La Soul), Low Down Loretta Brown (Erykah Badu), Rich Medina, Biz Markie, and others. She was even personally invited by George Clinton to DJ his 71st birthday party. Music artist Solange called her "wonderful" and "life given," and dj artist King Britt said she was "the best…top 3 DJs for me."

Soul Sister's mission is to share music, and is equally dedicated to educating about music, both as a writer/researcher and as a university lecturer.