Tipitina's Presents
Red Baraat
+ Marina Orchestra
with
Red Baraat
,
Marina Orchestra
May 28, 2023
Doors:

8:00 pm

/
Show:

9:00 pm
CDT
Ages 18 and Up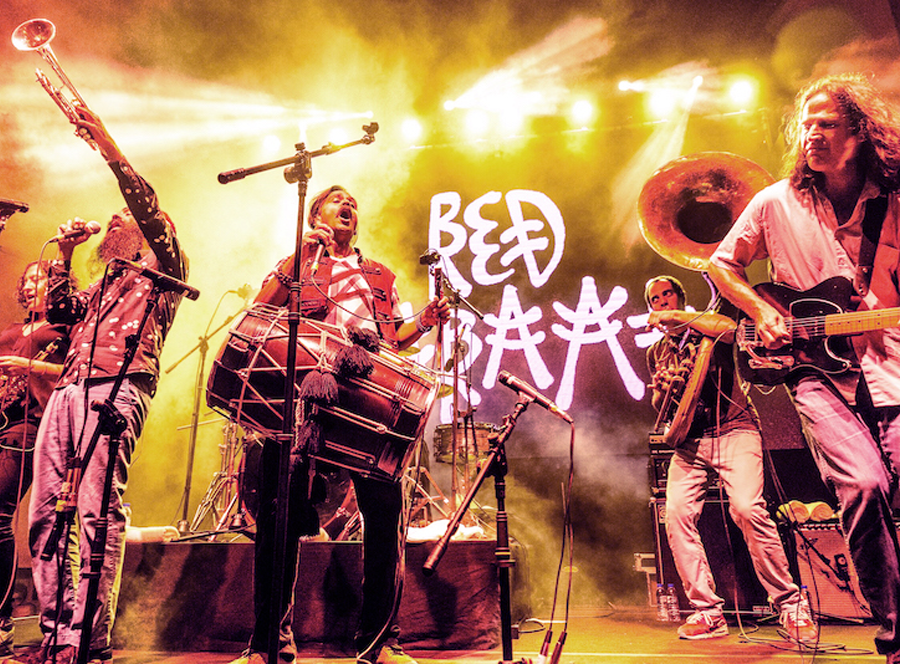 $22.00
Red Baraat
RED BARAAT is a pioneering band from Brooklyn, New York. Conceived by dhol player Sunny Jain, the group has drawn worldwide praise for its singular sound, a merging of hard driving North Indian bhangra with elements of hip-hop, jazz and raw punk energy. Created with no less a purposeful agenda than manifesting joy and unity in all people, Red Baraat's spirit is worn brightly on its sweaty and hard-worked sleeve.

Their infectious rhythms roll over the audience like a hurricane and let the audience breathe only in a short ballad pause, to change a torn guitar string… Fred Balz, Allgemeine Zeitung, Rhein Main Presse (Germany) Red Baraat's June 2018 album release, "Sound The People", hit the top 10 on the World Music Charts Europe and was heralded in the US as the anthem soundtrack for the South Asian diaspora by US hipster, indie-rock magazine, Stereogum:

The album is full of moments that hit with the force of a spiritual awakening… The funk, ska-punk, and other American forms that make their way into the music are layered intricately within the same threadwork as the ragas on which these songs are pulled from. Each piece is a gesture of cultural harmony, rendering not only genre irrelevant, but the geographic placement of those sounds.
Marina Orchestra
Hold a seashell to your ear and enjoy the sweet sounds of Marina Orchestra, the New Orleans based beach-rock outfit. Imagine if the B-52's, David Byrne and Sir Victor Uwaifo all went to Trinidad to write music. Band leader and singer songwriter, Justin Powers, cleverly weaves between genres creating a feel-good, groovy style of rock that is distinctly original.
Known for their vibrant musical energy and life affirming lyrics the band has wowed audiences with their soaring vocal harmonies and infectious rhythms. Since 2010 Marina Orchestra has been a vision of a blaring brass section, swinging back-up singers, churning poly rhythms and sweet melodies that stick with you.
All throughout 2022 the band has been dropping singles as a follow up to their 2020 album "Night Life". Check out brand new songs like "Music is Medicine" (Oct. 7), "Daydream", "Golden Oldies" and "Good Time"