Tipitina's & ALT 92.3 Present
ALT 92.3 Day!
with
Bad Suns
,
Colony House
,
Alexsucks
Featuring Bad Suns, Colony House & Alexsucks
September 23, 2023
Doors:

6:30 pm

/
Show:

7:30 pm
CDT
Ages 18 and Up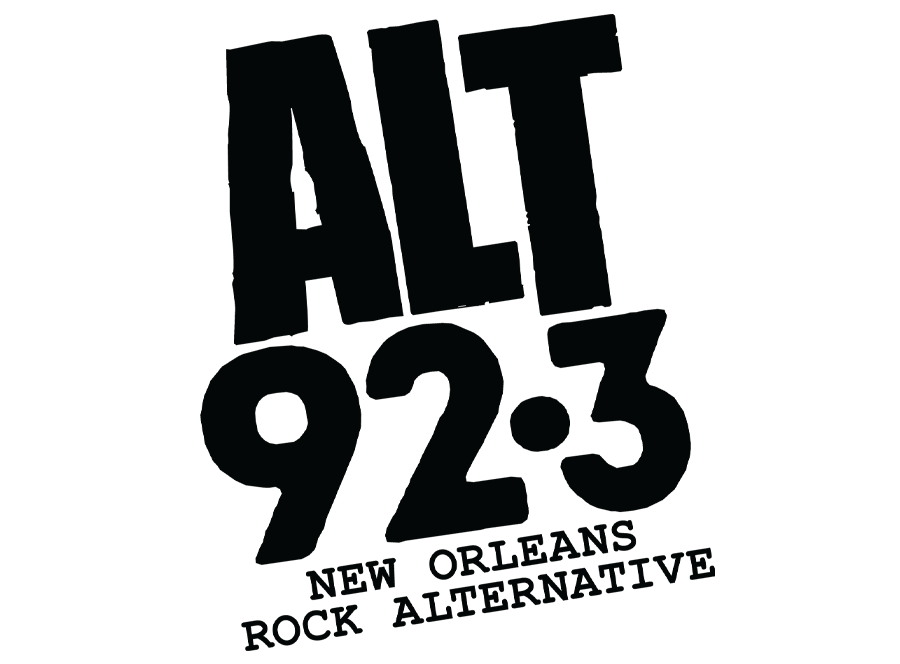 $22.00
Bad Suns
"When we were done touring our second record, we were exhausted being Bad Suns," admits singer/guitarist Christo Bowman. "We just decided to do whatever the fuck we wanted."
It's not surprising that BAD SUNS felt burned out: After forming as teenagers in 2012, a pair of beloved albums (2014's Language & Perspective, which peaked at #24 on the Billboard 200, and 2016's Disappear Here) launched the LA-based quartet onto tours with the likes of the 1975 and Halsey, festivals like Coachella and the homepages of Alternative Press and NYLON — with the latter hailing Bad Suns as "the sort of rock that we just never get enough of."
By the time their 2019 Epitaph debut, Mystic Truth, rolled around, the band — Bowman, guitarist Ray Libby, drummer Miles Morris, and bassist Gavin Bennett — needed a breath, a proverbial gap year after the crash-course education they received going straight from high-school halls into the indie-rock pressure cooker.
As a result, LP3 was a little softer around the edges, more contemplative, introspective, and somber but still resonant enough to introduce Bad Suns to some of the largest audiences of their career, including a slot on Lollapalooza's main stage and on the soundtrack of Jason Reitman's 2020 COVID-confined miniseries remake of The Princess Bride.
"We loved making Mystic Truth," Bowman says. "We did a lot of growing up during that time. It was really important for us to make that record, but we were also really eager to get back to being Bad Suns again."
It's that unmistakable Bad Suns sound — dreamy '80s pastiche flanked by Stratocasters through cranked Vox amps, pulsing synths, and palpable rhythmic energy — that endeared listeners to the band in the first place, and their fourth LP, APOCALYPSE WHENEVER, uses that musical foundation as the jumping-off point for their next evolution.
Conceived as "the soundtrack to a movie that doesn't yet exist," the 13-track album, helmed by longtime producer Eric Palmquist (MUTEMATH, Thrice) at his Palmquist Studios and the band's North Hollywood rehearsal spot, is more conceptually rigorous than anything they've ever attempted — but no less compelling or accessible.
"We wanted to make something very poppy and forward-looking while not abandoning the past," Bowman explains. "We also knew we wanted the album to have a through-line, a story from beginning to end."
So the band did what any good directors would: They assembled a mood board, filtering their neo-noir version of Los Angeles through the dreamlike haziness of author Haruki Murakami, the futuristic flair of Terminator 2: Judgment Day and Blade Runner, and the lifted cinematography of Spike Jonze's HER.
These disparate influences don't just offer APOCALYPSE WHENEVER an expanded palette of sonic choices to color Bad Sun's airtight hooks — they help give the songs an emotional complexity that works on a multitude of levels depending on how listeners choose to receive them.
Read one way, the title track is a jocular kiss-off to pandemic-era anxieties as well as the realization that, at some point, normalcy must start again. But on a much deeper level, it serves as the scene-setter for the cinematic story ahead, as the album's protagonist washes up on the shores of a fictionalized LA after a near-death experience at the hands of the turbulent ocean.
From there, the band dovetail into flashbacks, tracing the totality of the character's life through a soft-glow vignetting: blissful summer romance ("Peachy"), aching nostalgia ("When The World Was Mine"), hurts-so-good Smiths-ian hubris ("Life Was Easier When I Only Cared About Me"), heartbreaking disaffection ("Wishing Fountains"), and unconditional love ("Symphony Of Lights," originally written during the Mystic Truth sessions).
"Throughout the course of the album, the main character is forced to re-evaluate everything that's happened in their life," Bowman explains. "Ultimately, the takeaway they're left with is, 'This could all end at any time, so instead of moaning about things, I'm going to make the most of it.'"
A salient parable for the last year, sure, but ultimately a universal mantra we'd all be wise to adopt long into the future. Bad Suns have been there themselves, brave enough to take a sonic detour when they felt the pull of something more, then confident enough to follow that muse back to the unimpeachable qualities they were founded on nearly a decade ago.
It's this maturity to let the internal compass guide the way that's gotten them to this point, and it's what keeps them pushing toward the most fully realized version of Bad Suns possible on APOCALYPSE WHENEVER — that, and a little friendly competition.
"There are bands out there that sound like us, but none of them do it as well as we do," the singer says with a laugh. "If that's the case, we might as well keep doing it."
Colony House
"We tried to stay away from getting stuck on a theme, but I think being back home for such an extended period of time after traveling so hard for the last ten years informed a lot about this album."

The music of Colony House—an indie rock band made up of brothers Will and Caleb Chapman, as well as Scott Mills and Parke Cottrell—is playfully self-described as "landlocked surf rock." Their personal genre designation is as much inspired by their hometownof Franklin, Tenn. as their new album The Cannonballers is: "In short, Tennessee was the inspiration for this project," frontman Caleb Chapman says. "We got to see the seasons change and experience our home again for the first time in a long time. I thinkI was falling back in love with Tennessee, and I started revisiting some old memories and old relationships in my head that pertained to certain geographical locations as well as just emotional places I had spent my most formative years."

The band's music is built on pillars of honesty, accessibility and family, and much of The Cannonballers is too: within 11 tracks, the band delves into where they come from and how a place, and its memories, have made them. To the band, The Cannonballers signifies the carefree times of childhood past, with its beautiful naivete, whilesimultaneously encapsulating their alter ego—a character speeding down the open road, racing the clock in his rear view. The band is often caught in the duality between the "Cannonballer" and the kid on the album cover. Beneath the baptismal a juxtaposition is revealed -the "Cannonballer" is two sides of the same coin -the reckless and the innocent.

It's an exploration of a pendulum swinging between the two—songs like "Would Ya Could Ya" and "Man on the Run'' seem simply meant for rolling the windows down or lacing up a pair of running shoes and contemplating what life's had in store recently—or perhaps forgetting it altogether. "I'm trying to talk less these days and listen more," Caleb says of the latter.

Kicking things off with the ever-fascinating premise of "Landlocked Surf Rock," the album begins with an energetic love letter to Tennessee. "Nashville always felt like a small quiet city... in a way, it felt like it was just trying to keep up with the big cities, and I think that's kind of how our band has felt for all these years," they say.

"I wanted to try to encapsulate the emotion that this town is a place that keeps us dreaming," Caleb notes. "Though it has changed and grown into something totally different than it was growing up—it will always keep us coming back."

The album's title track, "Cannonballers" is imbued with a bit of folklore, inspired in part by the story of the Wabash Cannonball, a cursed train that transported hoboes to the afterlife—and the local roller coaster at the now-defunct Opryland USA that was named after it. "In short, it's a look at how we are all afraid of the inevitable and would do anything to live forever, even though we live our lives in contradictionto this: we get frustrated behind cars that go the speed limit, we spend money we don't have, we don't like slowing down,we are always on the run—either running away or trying to play catch up."
"When I stumbled upon the guitar riff that drives the songit kinda felt like a rollercoaster ride, so I began to form the lyric around the first roller coaster I remember riding as a kid," Caleb says. "It was just a short ride with only a couple loops in it, nice and to the point. As the ride concluded I would already be thinking about getting back in line for another go," he continues. "The song's meaning is multifaceted and alludes to the pace of life we all seem to be living at these days... fast. 'Cannonballers' is a short ride with a couple twists and turns, but hopefully by the time it ends, whoever is listening will want to hop back in line for another go."

The Cannonballers marks the band's fourth full-length release: their three previous studio collections take listeners on a journey through stories of loss, grief, and heartbreak while welcoming them into the hope that comes on the other side. Their 2014 debut, When I Was Younger, included the single "Silhouettes," which became the #1 most played track on Sirius XM's Alt Nation for four months straight. Only the Lonely, whose title and demeanor pay tribute to the vintage sounds of Roy Orbison and the Beach Boys, followed in 2017. The surf-rock hit, "You Know It," went viral on Tik Tok, and has amassed 100 million streams across all platforms to date, after being featured as the soundtrack to Samsung Mobile's nationwide ad campaign.

Leave What's Lost Behind was released in January of 2020; the band managed to play half of their 40 city headline tour before being forced to pause alongside the rest of the world. Like many touring artists, they found different ways to continue to create, producing and directing a full-length feature film, "Everybody's Looking For Some Light," which was an official selection at the Nashville and Knoxville Film Festivals. The movie debuted at a two-day drive-in event produced by the band at Greystone Quarry in Franklin, TN. Over 2,000 people (in over 600 cars) showed up to watch the film and see Colony House perform.

The band has performed their songs for worldwide audiences with two appearances on both Late Night with Seth Meyers and CONAN, as well as The Today Show, VH1's "Morning Buzz," and MTV Live. They have also been part of several festival lineups including Shaky Knees, Austin City Limits, Firefly, WonderBus, and Lollapalooza.

The Cannonballers is an apt addition to the band's catalog, staying true to what Colony House does best, and expanding on what their fans have gravitated to for the past decade: hope and light in the midst of it all. No frills, no gimmicks. Just heart-level rock and roll music. A centerpiece of the album, "Trying to Survive," written with singer-songwriter Trent Dabbs and producer Chad Copelin, may sum it up best: "It's a weary soul's anthem," Caleb notes. "One of the most fundamentally human conditions is that we are all just trying to survive. In a weird way I feel like that connects us all somehow. Obviously, everyone has their own story...But we always have said that we sing these songs to feel a little less alone in the world. The hope is that when people hear them and make them their own they feel the same."
Alexsucks
Los Angeles' ALEXSUCKS are the unpredictable wildcards, quickly making a name for themselves in the LA rock scene. Front-man, Alex Alvarez, who has been skating since he was three, is known for his unapologetic style inspired by the garage dance-punk revival featuring catchy singalong lyrics. ALEXSUCKS' music is striking a chord with audiences, drawn to their authenticity based on just a handful of released songs made in Alex's room. ALEXSUCKS organic groundswell is reminiscent of the stronghold the grunge movement had on the Sunset Strip in the 90s and is poised to be amplified on their forthcoming album produced by the legendary Brendan O'Brien (Pearl Jam, Incubus, Rage Against The Machine).