Tipitina's Presents
Papa Plays the Nite Tripper: A John "Papa" Gros Tribute to Dr. John
with
John "Papa" Gros
,
Leo Nocentelli
,
Big Chief Monk Boudreaux
,
John Fohl
,
David Barard
,
Kiki Chapman
,
Yolanda Robinson
November 18, 2023
Doors:

8:00 pm

/
Show:

9:00 pm
CST
Ages 18 and Up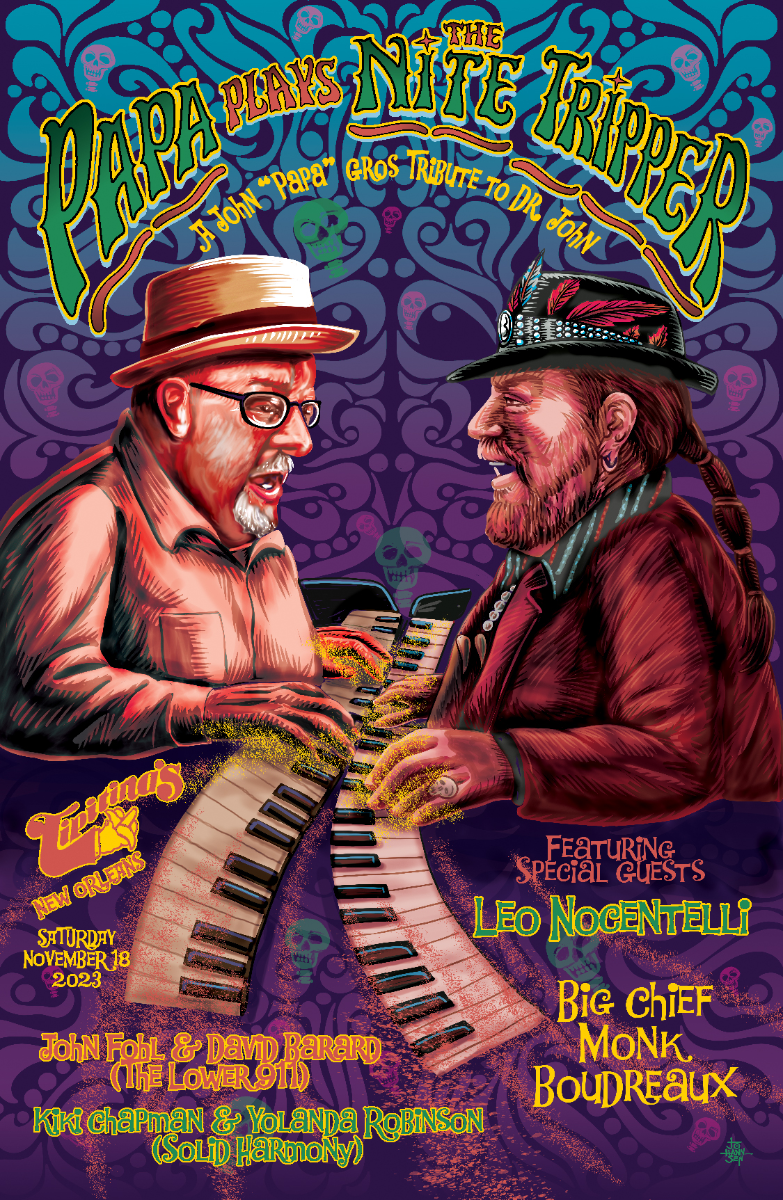 Featuring Special Guests Leo Nocentelli, Big Chief Monk Boudreaux, John Fohl & David Barard (The Lower 911), and Kiki Chapman & Yolanda Robinson (Solid Harmony)
$32.00
John "Papa" Gros
"Sharing New Orleans with the world is my calling." - John "Papa" Gros

New Orleans has its fair share of musical ambassadors; but few are more rooted in the cracked sidewalks and popping speakers of the Crescent City than John "Papa" Gros. Born and raised in the city, Papa Gros melds funk, rock, jazz, and blues to deliver a sound that is both innovative and unmistakably New Orleans.

Papa launched his career as a solo performer in the early 1990s, quickly gaining attention from marquee artists such as George Porter Jr. and Snooks Eaglin, both of whom brought him on board as a supporting musician. As he sat behind the keys, backing up some of the city's most iconic musicians, he soaked in a lifetime of experience and continued to develop his craft. He released his solo debut, Day's End, in 2004.

The next dozen years would be dedicated to leading and recording six albums with his band,
Papa Grows Funk. He returned to solo work with 2016's River's On Fire and cemented his legacy as a part of the direct lineage of New Orleans music with 2020's Central City. The complete selfportrait of John "Papa" Gros has been revealed.

In keeping with the energy and spirit the Big Easy is known for, Papa Gros is a consummate live performer. His infectious band shows have been the highlight of festivals and venues across the U.S. and Europe, showcasing versatile musicianship, relentless grooves, and eclectic songcraft of the highest order.

Drawing on the full breadth and depth of his extensive catalog, Papa's live performance marries style with substance, bringing that unique, can't-put-your-finger-on-it magic of New Orleans and infusing the audience with a joyous energy few artists can match.

" John "Papa" Gros is a bedrock New Orleans artist, a keyboardist, singer and songwriter who
draws on funk, rhythm & blues and Americana songcraft; he also knows his way around the
Mardi Gras music repertoire about as well as anyone. " -The New Orleans Advocate.
Leo Nocentelli
Leo grew up in the Irish Channel and Seventh Ward neighborhoods of New Orleans. He was encouraged by his father to pursue music. He played ukelele at an early age and started on guitar at age twelve. He gravitated to jazz and was influenced by jazz guitarists Charlie Christian, Barney Kessel, Johnny Smith and Kenny Burrell. His first professional gig was at age thirteen. By age fourteen he was backing notable musicians such as Otis Redding and Clyde McPhatter. He played jazz, Dixieland, rhythm and blues, and rock. He joined the Hawketts and developed a reputation as a guitarist. At age seventeen he did session work for Motown acts including the Supremes, Temptations, and Spinners.

60s and 70s
In 1964 Leo was drafted and served in the army for two years. During leaves he did session work in New Orleans. After the service he joined Art Neville and the Neville Sounds, at the time a recently founded seven-piece band. By 1968 the band consisted of four members: Leo, Art Neville, George Porter, and Ziggy Modeliste. The band had a fluid style and each instrument was free to go anywhere musically. The band performed dance-style rhythm and blues at the Ivanhoe nightclub six nights a week. On Sundays, Leo, Porter, and Modeliste performed jazz gigs. Leo said his bandmates were his biggest influence and called his experience up to this point in time the learning phase of his career.

The band released two singles as The Meters, "Sophisticated Cissy" and "Cissy Strut", both originally written by Leo. The commercial success of "Cissy Strut" became an impetus for the band's subsequent recording career as The Meters. From 1969 to 1977 the band released eight studio albums, with Leo as one of the primary songwriters. He wrote the original versions of funk songs such as "People Say" and "Hey Pocky A-Way". Early on, improvisation was a major part of song development. Though the band gained notoriety in the music community, the lack of commercial success along with managerial and artistic factors gave way to their disbandment in late 1970s.

Throughout the 1960s and 1970s, Leo wrote, co-wrote and did session work – mostly in Cosimo, Sansu, and Sea-Saint studios. As songwriter and producer, he learned from and was influenced by Allen Toussaint. He backed a variety of artists such as Dr. John, Robert Palmer, Albert King, Etta James, Joe Cocker, Earl King, Chris Kenner, and Betty Harris.

70s to Present
In 1971, Leo recorded a solo debut album called Another Side. He wrote the album during a brief span when the Meters were split up. Leo sidelined the project because the Meters scored a record deal with Warner in 1972 and it was not released until 2021.

In the early 1980s Leo toured with Jimmy Buffett. He moved to Los Angeles in 1982. He continued to do session work and performed regularly with former bandmate George Porter as GEO/LEO. He also remained close with Modeliste, who had moved to the San Francisco Bay Area. They performed in various quartet formations and released a live album titled Leo: Live in San Francisco. At one of their shows in 1989, Leo and Porter invited Modeliste and Neville on stage. The impromptu performance was the first reunion of the original Meters. The same year Leo, Neville, and Porter formed The Funky Meters with Russell Batiste on drums. Leo performed with the reincarnated lineup until 1993.

Leo briefly moved back to New Orleans in the early 1990s and returned to Los Angeles in 1992. He continued to perform with two Meters-inspired lineups: The Meter Men and The Meters Experience. The Meter Men are Leo, Porter, and Modeliste with Page McConnell on keyboards; variations included keyboardists Rich Vogel, John Gros, and drummer Russell Batiste. The Meters Experience is Leo in various quartets with Bernie Worrell, Bill Dickens, Oteil Burbridge, Al Di Meola, Jason Crosby, George Laks, Albert Margolis, Jamal Batiste, Ricky Cortez, Felix Pollard, and others.