Tipitina's Presents
Big Sam's Holiday Jam With Big Sam's Funky Nation
with
Big Sam's Funky Nation
,
Pell
,
Flagboy Giz
,
Quiana Lynell
,
Sporty's Brass Band
w/ Pell, Flagboy Giz, & Quiana Lynell + Sporty's Brass Band
December 16, 2023
Doors:

8:00 pm

/
Show:

9:00 pm
CST
Ages 18 and Up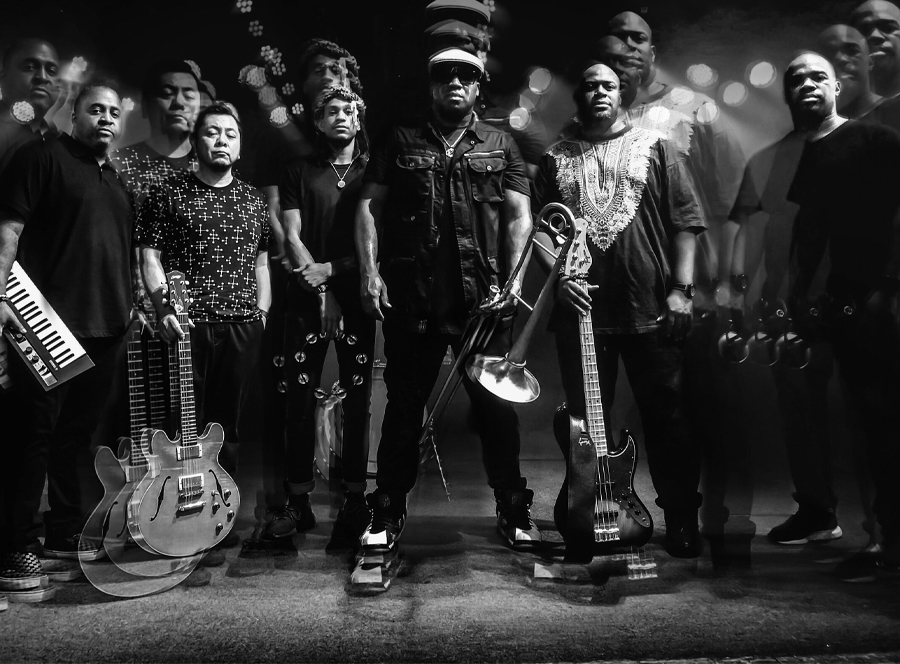 $22.00
Big Sam's Funky Nation
When you think of New Orleans, the city's foremost flambeaux-lit traditions of Mardi Gras, Bourbon Street, voodoo, Po' boys, beads, gumbo, and second line undoubtedly come to mind. You can also count Big Sam's Funky Nation amongst those NOLA treasures.

Known for a boisterous blend of funk, jazz, rock, and hip-hop, nothing short of seismic live "experiences," and a whole lot of Southern charm, Big Sam's Funky Nation might very well be The Big Easy's best kept secret.

No other place could birth such an undeniable, unpredictable, and downright unique collective.

"By playing on these streets, you learn how to work your craft and entertain an audience," exclaims Sam. "You can go to Julliard and Berklee all you want, but they won't teach you how to rock a stage. It comes naturally in New Orleans. I've been here my whole life and rocking these streets. Even during Hurricane Katrina, I drove nine hours from San Antonio every weekend for two years just to play live. The sound out here is unlike anything else in the world. It's not just a figure of speech—there's music going all night, literally."
Quiana Lynell
In 2017, Quiana Lynell made her salient mark on the jazz-and-beyond musical world as a wise, heartfelt, warm vocalist whose voice is singular in its soul, intensity, ecstasy and outright spiritual courage. She played with her trio at the New Orleans Jazz & Heritage Festival which led to her performing in Poland with trumpeter Terence Blanchard's Spike Lee tribute with a 75-piece orchestra. In November, after considering for a couple of years whether she was ready, she decided to vie for the Sarah Vaughan International Jazz Vocal Competition Award. She commanded the finals stage at NJPAC's Victoria Theater and wowed the judges and audience with her vocal prowess that earned her the prize, which afforded her the opportunity to record an album for Concord Records. The result, 2019's A Little Love, produced by the renowned Brian Michel Bacchus, is testament to what a rare, mesmerizing artist can achieve on her auspicious debut.
A feast of soul, gospel, r&b, groove and jazz, A Little Love blooms with songs about searching, trying times, buoyant love, deep reflection and social action. Lynell sings with the voice of authority and the takeaway from the album as a whole is honesty. She's a truth-seeking storyteller with a spirited resolve. She covers a wide range of songs, from Nina Simone to Chaka Khan, from Duke to the Gershwins, from Donny Hathaway to Irma Thomas, with the bookends of the album featuring songs by powerful modern artists Alina Engibaryan and Joshuah Campbell.
Blanchard said his take on hearing her for the first time was "a serious vocal discovery." He added, "Quiana Lynell is already a vocal presence. When I first heard her sing, my initial thought was 'Who are you, where have you been, and why am I just hearing you now?'"
Who is Quiana Lynell? Like so many significant artists, she came from the church. In her house when she was growing up in Texas, there was no secular music allowed. But music was everything to her and she knew she was singer, but it was all about expressively harmonizing in the church's choir "in service to the Lord," she says. Because her local public school had music education beginning in the kindergarten, she learned the basics and gained a preliminary sense of how music works.
But Lynell strived for more. She left home and became the first in her family to finish college—Louisiana State University in Baton Rouge where she studied voice. "I didn't know what to expect," she says. "I struggled a lot. I knew I had a lot of talent but not the theoretical skills. I took a lot of time training to catch up. But I made it even though I didn't have a lot of confidence into where to go next. I didn't like the classical world, with the competition and the rules orientation where you have to always be correct. I realized I was someone who wanted to bend and break rules."
In 2007, Lynell took a job at the AT&T call center. She laughs at the times when while customers were on hold, there could be quite the party environment in the center. A big component of the party was singing. One of her co-workers was impressed and told her she needed to be a singer and she wanted her to sit in with her blues and zydeco band. "I couldn't imagine her playing the clubs and juke joints," says Lynell who had two children. "I grew up religious so I had different priorities. But she convinced me, and I was blown away. I learned that singers can have pretty voices and be entertainers."
Four months later, her friend died of complications during surgery and at the funeral her bandmembers said they needed a new vocal leader. She jumped in. "I learned so much about the song form and entertainment and how to interact and take people on a journey," she says. During the day, she still worked at AT&T and was providing for her family, but small-paying gigs at night were getting too stressful. She broke out and started attending jam sessions and expanding her musical community. "I was singing and giving people my soul, and I was loving it," she says.
In 2011, she left AT&T and started teaching music in an elementary school that was converted into a middle school. In the meantime, she was gigging and writing which consumed her time to the point where she needed to find a new source of income. Her New Orleans friend, pianist/educator David Torkanowsky told her about a new music department being developed at Loyola University that needed a vocal teacher. Becoming an adjunct professor opened her world wider. During this transitional time, Lynell was increasing her jazz repertoire, and she formed a band.. She loved Dianne Reeves and looked to her as a hero. She made a set of goals: to be a vocalist like Reeves and tour internationally.
"I began to stalk people to figure out how to advance my career," she says. "I read biographies of most of the prominent jazz vocalists. Of course, being in New Orleans, I was able to learn what it means to be an apprentice." Herlin Riley and Blanchard were key as well as Blanchard's management.
Lynell met Blanchard for the first time in Poland at the rehearsals for the show. "Terence is the most easy-going and accomplished person," she says. "He was such a good leader and teacher. He told me, 'You've got it, so don't be nervous." One of the singers at the show was Nona Hendryx of r&b group LaBelle and Talking Head's Stop Making Sense film. Lynell sang duet with her on "A Change Is Gonna Come." Blanchard said, "Quiana commanded that stage and left us all with the same feeling as my initial thought, 'Who are you and where have you been.'"
Blanchard continued to champion her, including inviting her to sing at last year's International Jazz Day show with Herbie Hancock. "This is crazy," she says. "Here I was playing with the people that I've idolized. I found a group of people who were compassionate and wanted to progress my talent."
When it was time for Lynell to record, her management team opted for Bacchus as the perfect producer—and collaborator for her variety of styles. Lynell's goal: to put together a collection of songs that would be a gumbo pot of music. "My mission was to make A Little Love be just that," she says. "We're being affected by everything in this world—the state of our country, the gun violence. I'm bringing a little bit of love to romance and to our country." Her band on the outing is Cyrus Chestnut on piano and Rhodes, guitarist Ed Cherry, bassist George DeLancey, vibes and Rhodes player Monte Croft (who contributes a beauty to the recording, "What Is Love?") and one of the singer's gigging partners, drummer Jamison Ross.
A Little Love opens with the r&b/gospel uplift covering young vocalist/pianist Alina Engibaryan's song of searching, "We Are," which was Bacchus's suggestion. "This song speaks to me," Lynell says. "It's about trying to figure out how we feel and how we can be fulfilled. It's full of spiritual wisdom that reaches everyone."
That's followed by a passionate gospel-fueled take on "Tryin' Times," a social-consciousness Donny Hathaway song (made famous by Roberta Flack's version in 1969) about familial unrest and the late '60 tenor of "confusion over the land." Lynell notes, "I feel like it's part of my job to make you think. I feel all these words. Sadly, it feels like everything has gone backwards to being just as traumatic and dramatic."
Other takes on covers include the grooved soul of "Move Me No Mountain" (put on the map in 1980 by Chaka Khan who says, "It's one of the best songs I've ever done"), the gently swinging Gershwin tune "They All Laughed" (performed as a sweet vocal duet with Ross), the quiet and sincere "Just a Little Lovin' (inspired by Carmen McRae's rendition), and "You Hit the Spot" (a Mack Gordon/Harry Revel tune that Ella Fitzgerald made famous and Sarah Vaughan later sang) where Lynell starts soulfully slow then swings with a fiery scat at the end.
One of the many highlights of the collection is Lynell's raucous version of the 12-bar blues "Hip-Shakin' Mama" best known for its inclusion in the Irma Thomas songbook. She rocks out on it with a blue flame, noting, "It's fun double entendre music. It's so emotional and comedic. And it's the blues. I could do this all day." (In fact, it was her rambunctious take on the song at the SASSY Awards that brought down the house.)
Another significant number is Lynell's prayer-to-shout blend with Duke Ellington's "Come Sunday" that leads into the profound Nina Simone protest, "I Wish I Knew How It Feels to Be Free." "I started this out with a solemn moment by doing Duke," Lynell says. "You learn from the gospel that you may beaten down, but the sun will come up. This is my prayer for the country. And then we hand clap with Nina for this civil rights song. Nina was a mover during the Civil Rights Movement. I want the same with this song. It's time to come up with a change."
A Little Love ends with the poignant anthem, "Sing Out, March On," a politically motivated song written by Joshuah Campbell, where Lynell soars with heartfelt soul and r&b vocals on such charged lines as
"Now, I believe in the power of raising my voice And I believe in the power of making some noise If I die I can't sing, and if I can't sing I'll die So we can sing for one another now, let's give it a try"
"Terence brought that song to me," Lynell says. "We always talk politics, so this is perfect. It was cool how Brian recorded it in the studio. But I told him I had another idea. I come from a singing family and my grandmother was living during those Civil Rights days and watched the marches. So I went to Texas to have the four generations of my family singing in a choir-like background."
"This album is my introduction to the world," Lynell says. "It was my first time working with a producer, and it came out so differently than what I had thought I could do. I was always told that my intuition was leading me in the right direction. This is like taking a picture of who I am today. There will be more pictures to come."
Sporty's Brass Band
From the bustling streets of New Orleans came Maurice Craige, a true visionary behind the remarkable Sporty's Brass Band. Assembling a team of nine incredibly talented instrumentalists, Sporty's Brass Band quickly captured the hearts of locals and tourists alike, performing at a diverse range of events - from the most joyous of weddings to the most sombre of jazz funerals. Their music, infused with the unmistakable New Orleans sound, echoed through the streets during beloved festivals such as New Orleans Jazz and Heritage, French Quarter Fest, Brass Fest and, of course, the ultimate celebration of Mardi Gras. Their fame quickly spread beyond their hometown, with the band embarking on a tour of the United States, thrilling crowds at some of the most prominent festivals in the country. Festivals in Asheville, North Carolina and the Big Ear's Festival in Nashville, Tennessee.
The band's unique sound and style drew media attention, and the famed New York Post took noticed interviewed them, lauding the band's talent and dedication.
But for those seeking the ultimate Sporty's Brass Band experience, you can catch them at two popular venues every weekend in New Orleans-Bullet's Sports Bar on Friday nights and Jazz It Up on Sunday nights. Providing locals and tourists with an opportunity to experience their vibrant music in a setting that is impossible to forget.
Catch the music, join the fun and let the Good Times Roll.