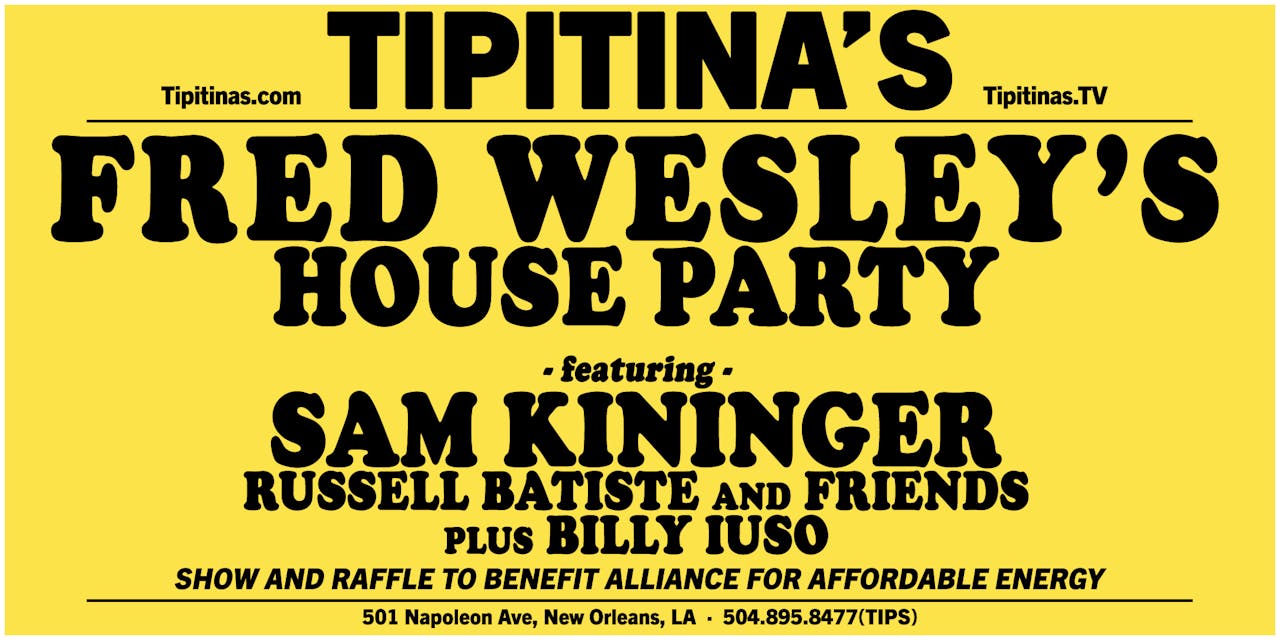 Fred Wesley's House Party
Featuring Sam Kininger, Adam "Shmeeans" Smirnoff and Russell Batiste & Friends + Billy Iuso
ALLIANCE FOR AFFORDABLE ENERGY
ADVOCATING FOR EQUITABLE, AFFORDABLE, ​ENVIRONMENTALLY RESPONSIBLE ENERGY SYSTEMS
Russell Batiste and Friends Include:
Russell Batiste, Jr.
Bill Richards
Phil Breen keys
Gregg Molinario
Ian Cunningham
Rene Gros
Tom Fitzpatrick
Roderick Paulin
Tracy Griffin
Eric Morel
and Reggie Green
Russell Batiste Jr. is a New Orleans musical institution. Brought up in a musical family, Russell started playing drums at the age of 4. He joined the family band, The Batiste Brothers, by the age of 7. He also learned to play keyboards, saxophone, guitar and bass. After touring with Charmaine Neville's band, he joined the Funky Meters in 1989 and toured worldwide. He has performed with a wide range of musicians and bands including Papa Grows Funk, George Porter Jr & Runnin' Pardners, Harry Connick Jr., Champion Jack Dupree, Robbie Robertson, Maceo Parker, PBS, Joe Krown Trio, and many many more. After a storied career, he currently holds the drum chair for Page McConnell's (Phish) Vida Blue.
As a solo artist he has lead his own band for many years. Russell Batiste and Friends has released 3 albums. He is lauded as one of the principal drummers of New Orleans and is known for an unmatched skill set and enigmatic style. His creativity and energy are at the forefront of every show whether it is New Orleans' funk, blues, jazz, reggae, fusion, prog rock, or whatever genre bending style that the band digs into. He continues to be a culture bearer and a beacon in the New Orleans music community.