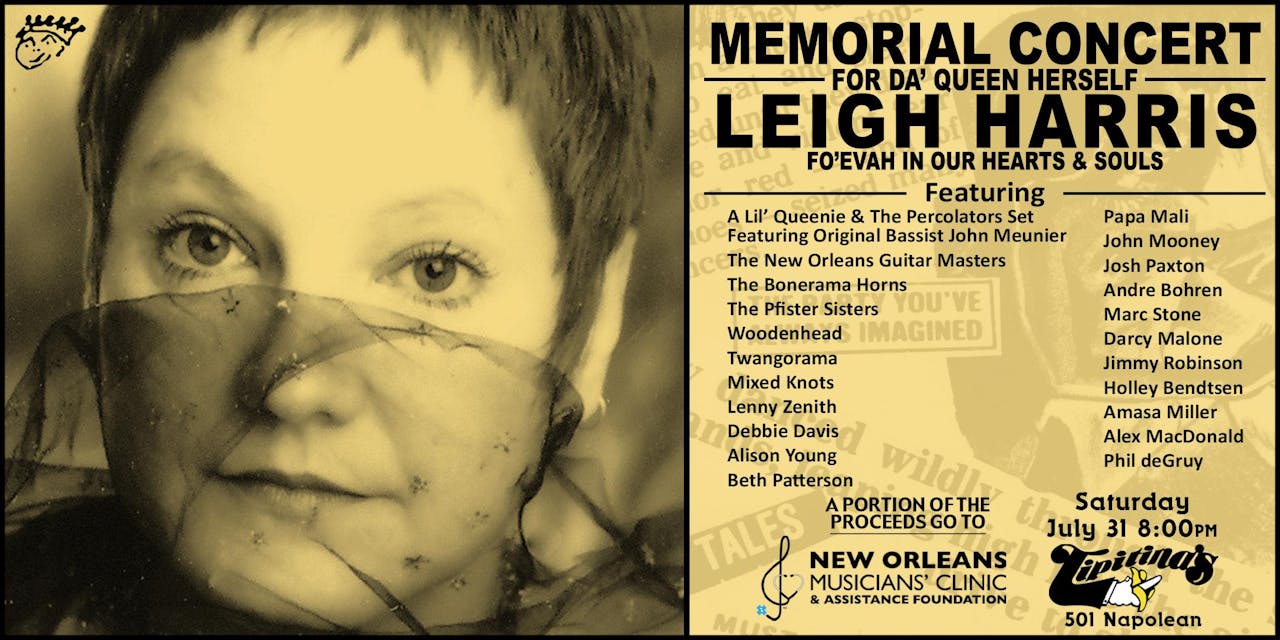 Leigh Harris Memorial Concert
For Da Queen Herself - Fo' Evah In Our Hearts & Souls
‏
Effective Friday, July 30, 2021, notable New Orleans venues will require all patrons who wish to attend performances featured at their establishment to provide a valid, complete Covid-19 vaccination card OR proof of a negative Covid-19 test performed within the previous 72 hours prior to entry onto the premises until further notice.
Guests will be required to provide proof of documentation along with a matching, valid ID for verification. Such documentation needs to be directly from the healthcare provider that performed the vaccination or the negative Covid-19 test within the previous 72-hours. Such proof may be displayed on a smartphone or presented as a physical copy. Masking of all attendees will also remain strongly encouraged consistent with CDC guidelines.
We remain committed to providing a safe and enjoyable atmosphere and livelihood for all performers, employees, and supporters of live entertainment and thank everyone for their contribution to these mitigation efforts at this time.
Special Thanks to New Orleans Musicians' Clinic for the care they provide to the musicians and culture bearers of New Orleans.
Please consider making a donation in Lil' Queenie's name to help them continue their mission.
Featuring A Lil' Queenie & The Percolators Set with Original Bassist John Meunier, The New Orleans Guitar Masters, The Bonerama Horns, The Pfister Sisters, Woodenhead, Twangorama, Mixed Knots, Lenny Zenith, Debbie Davis, Alison Young, Beth Patterson, Papa Mali, John Mooney, Josh Paxton, Andre Bohren, Marc Stone, Darcy Malone, Jimmy Robinson, Holley Bendtsen, Amasa Miller, Alex MacDonald and Phil deGruy!